LGBT-Positive Seniors Residence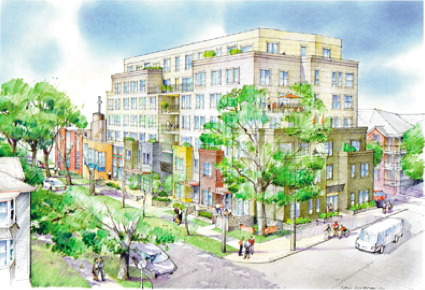 2010 Architect's Rendering
St John's United Church has proposed an LGBT-Positive Seniors Residence on Windsor Street at Willow where the church currently is. City Council has decided to defer approval of the project until after a public input process can be completed.
The proposed development will include approximately 65 LGBT-positive residential units, church offices and worship space, parking, and community meeting facilities.
The project was featured in an article by Valerie Windsor in the December Wayves Magazine.
On February 6, 2011, WayvesMagazine and the ElderBerries hosted a public meeting with a presentation by St John's United boardmember LouisaHorne?. Here is the CBC Radio piece by Paul Palmeter.
The main website for the project is http://spiritplace.ca/