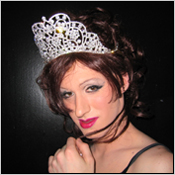 Feb 2004
MzReflections 2004 and MzGayHalifax III.
MadalynnAndrews writes: She is a kick ass person with her head on straight. She has one of the best senses of humor that I have ever come to adore. Her performances are catching and her personality? Well that just speaks for itself and most importantly: love ya sis xoxoxo
SelenaDq writes: An honor to know her, perform with her, and be her friend, (oh, and drink with her!). So many good times already, can't wait to see what lies ahead for us both. Love ya!
RoxburyInn writes: Stunningly beautiful, smart, funny, glamorous. Oh wait, I'm suposed to be describing April. Actually, she is a true sweetheart and I'm glad to be able to call her a friend. ~ Luv Roxbury ~ xoxo
AnitaMann writes: April, I have not really had the chance to get to know ya, I performed at one of your Wednesday shows and you were so nice to me. I have realized that you are one of those queens who do not let the differences between the bars ruin your ability to be friends with them. That is an awesome trait in this community. Congrats on winning Queen of Hearts and congrats on being crowned Mz. Reflections 2004. Lots of love, Anita
Amanda writes: Well seeing as how all my other stuff was erased, you already know how much i luv u! hehe. Too many fun times rolling on the floor, and gettin in trouble! YAY Seratonin! luv u xoxoxox
PEAH NU TBUTTER