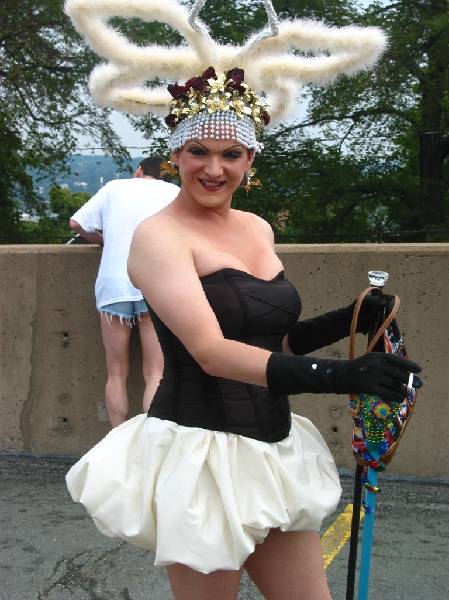 BoomBoom is her drag mother. Madalynn won QueenOfDiamonds II Pageant (2003). Her e-mail is madalynn1@hotmail.com.
Burly-Kim and Laurel write: Madalynn is beautiful! She knows how to perform, and she look great everytime she goes out. WE all LOVE HER ALOT! She's hilarious, and is the Queen of diamonds! LOVE YAH HUN!
NatasshaNlott writes: Madalynn is glam! xox
AprilShowers writes: Madalynn is absolutely stunning on the outside as well as in. I am truly fotunate to know her. Love you sis xoxoxoxo
SelenaTowers writes: It's been a wild ride so far, let's hope it gets wilder! Love ya!
RoxburyInn writes: Who could ask for a better older sis? Thanks for all of the beauty tips. Keep 'em coming. You are stunning. ~ Luv Roxbury ~ xoxo
ValDq writes: gurl load up the stolen Jetta... here we come manhattan... nails, facials, and the whole works... we'll be thelma and louise with class! LOVE VAL XOXOXO
AnitaMann writes: Madalynn you are one of the most honest, most bitchiest people I know and I love ya for it. It is the only way to be and it avoids cutting corners. You are beautiful, talented and I hope you never change. I am so glad I met you. Lots of Love.
AmandaBenzova writes: Been my best pal for .. nevermind, that'll age us, mmm a while.. Through all the broken limbs, no windshield wipers in rain storms, Hurricane Juan, which IM SURE happened because we made plans to hang out ! lol.. Im surprised we are still alive! But at least we NEvER? have a dull moment! I love ya ! *BLEUGH* *muah*
KandiKane writes: Madalynn darling I love you to death u have done nothing but help me out in any way you could. For this I thank you and just want you to know that I love ya ta pieces! *MUAH*
DivadDivine writes: Madalynn girl you truly are one of the cream of the crop of Queens in this city! You always look flawless and fabulous. I have to say I have always enjoyed our little chats! Good Luck with your store Making Faces. I hope to get to know you much better sweetie, but already consider you a friend! Love ya hun!
DynaMight writes: Madalynn it only takes one word for me to decribe you "BREATHTAKING" luv DynaMight
RougeFatale writes: oh hi there... gurl, i need my mind back... you ve had it long enough. lol i have met alot of people in thia city, but you by far are the sickest, nastiest, most dirty thinking bitch... i love it. i cant wait til we do a show together... i dont think this community is ready. lol love you, rouge
JeffMacPherson writes: Hey Maddy, you know I'll be there for you for anything you need, including a slap from time to time ;). Luv ya to pieces, gurl!
JuicyFruit: girl when you gonna come out again? I love watching ya perform up a storm.