Ben William Kozak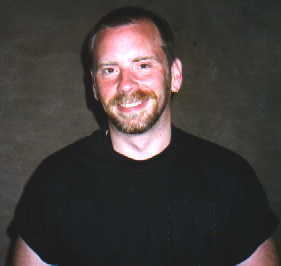 2001
March 31, 1962 - March 19, 2005
ChrisAucoin writes:
It is with great sadness that I wish to inform you of the untimely passing of Ben Kozak. Ben was struck down by a drunk driver on Friday evening, March 18, 2005 while walking our dog Theo not far from his home in Ottawa. Anyone who knew Ben well probably knows how much his four legged friends meant to him. Theo died at the scene and Ben died in hospital a few hours later. They will both be cremated.
Anyone who wishes to make a memorial donation in his name is encouraged to support his or her local SPCA or animal shelter, the Canadian AIDS Society, or the Companion Animal Trust of the Atlantic Veterinary College, University of PEI.
---
On Mayday, Beltane ("bright fire"), 2005, forty-five friends attended a moving memorial service at the Saint Mary's Boat Club in Halifax.
---
In Halifax, Ben was a community organizer, writer, and cartoonist involved, among many other things, with with WayvesMagazine and AidsCoalition.
A great lover of the outdoors, Ben's favourite places included CrystalCrescentBeach and Point Pleasant park.
---
Ben Kozak grew up in southern Ontario, spending most of his formative years in Niagara Falls with his parents and younger sister Arden. His first university degree was a Bachelor of Business Administration from Wilfred Laurier University which led to a marketing position with IBM. He first moved to Halifax in 1991 to attend Dalhousie University. Ben was a 'long term survivor' of HIV and it was his diagnosis in the late 1980s that motivated him to leave the corporate world and come to Nova Scotia to pursue one of his dreams: to live near the ocean and study marine biology.
After completing his biology degree Ben found work in several contract positions with a Halifax based environmental consulting firm and with the Halifax office of the National Research Council of Canada. In 1996 he once again made use of his business administration background when he began working as the Office Manager with the AIDS Coalition of Nova Scotia. He left that job in 2001 to accept the position of Manager of Finance and Administration with the Canadian AIDS Society in Ottawa.
Ben was a great lover of nature and the outdoors and he found spiritual fulfillment in the natural world. While he lived in Halifax he and partner Chris Aucoin could often be seen walking their dog in Point Pleasant Park or hiking at Crystal Crescent Beach. He loved to camp, canoe, and scuba dive; he was a huge music and pop culture fan; and he jumped at any opportunity to travel and explore. Ben was most in his element away from crowds of people - whether on a nature retreat, or socializing with a few close friends, or as a homebody listening to music, gardening, reading, spending quiet time with his dog and partner.
Ben was passionate about the environment and animal welfare and especially about his dogs. He was both a naturalist and naturist and he very much loved Nova Scotia and being beside the ocean. Even after he moved to Ottawa in 2001 Ben came back to visit Nova Scotia regularly - whether just spending quality time with friends, to visit his dog Theo who initially remained with ex partner Chris Aucoin, or for a men's canoe trip that was an annual event for him.
In addition to working for the Canadian AIDS Society Ben was involved over the past several years as a volunteer with the Canadian Treatment Action Council, and the Canadian HIV Trials Network. While in Ottawa Ben also realized a few more of his dreams. He purchased his own home - which he was gradually renovating, and he was able to travel and see Europe and Mexico. He also had become very involved in music after his move, singing bass with the Ottawa Gay Men's Chorus and then more recently with the group Olé.
Ben left this world in the "brightness of his day"; in the company of his dog Theo while out for a walk.
Notes
For those of you who knew Ben, there is an on line guest book where you may want to share your condolences: [1]
What a shame that a drunk driver caused a lot of hardship for Ben's many friends. I'd never met him but heard a lot of great things about him from people in the Halifax leather community. He'll be missed by all.
JC Theriault