BlackOUT 1.0
BlackOut? 1.0 was a moderated panel discussion that explored the intersection of LGBTQ and African Canadian identities. The following persons participated:
Catherine Meade, lawyer and sports administrator - Moderator Dr. Clemon George, HIV/AIDS activist and educator - panelist Chris Cochrane, drag performer (Elle Noir) - panelist Robert Wright, social worker - panelist
An audio recording of this event is available at Halifax Media Co-op.
BackOUT 2.0
March 25, 2015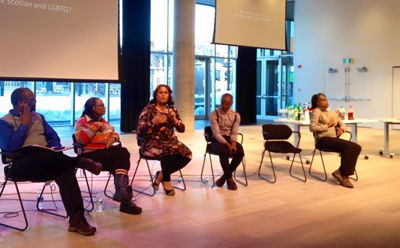 RobertWright, EvelynWhite, AxelObame and ChrisCochrane & interpreter An open discussion of what it means to be African Nova Scotian and GLBTQ. Presented by the NSRAP LGBTQ Youth & Elders Project in partnership with the Halifax Central Library as part of African Heritage Month.
Click here for a 2-hour audio recording.
This page is in the OralHistoryCategory
HistoryProjectTodoList: index this.