Brenda Barnes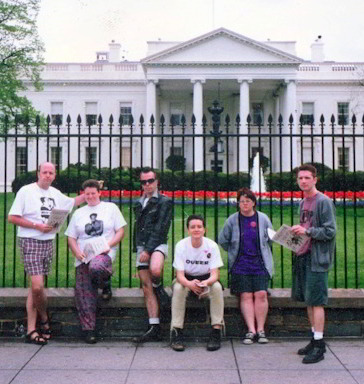 At the March on Washington: left to right: DanSmith, BrendaBarnes, JamesShedden, LisvanBerkel, JaneKansas and MichaelCharland.
Brenda M. Barnes lived in Halifax between 1988 and 1994, first employed as a naval information officer and editor at Maritime Command and later as a worker in local film and radio. She was the co-current affairs director (with Dan Hart) at CKDU-FM before she became the full-time director until her departure from Halifax to reside in Whitehorse. Since arriving in Whitehorse in 1994, Barnes has worked for CBC, for an NDP government (1996-2000) in arts administration, as a freelance writer and at a women's transition home. She is currently working with the Yukon government in communications and violence prevention public education.
Whilst at CKDU, Barnes helmed news and current affairs, co-hosted TheWordIsOut, the queer show and was the publicist for the station's annual funding drive. She was also was a driving force (with DanSmith?) behind "All Day, All Gay" - a day long broadcast celebrating the diversity of the LGBT community in Halifax. Complaints against that broadcast later led to CKDU being called to public hearing on its licence renewal and much later it becoming the only radio station in Canada to be barred from using sexually explicit language during certain times of the day.
Barnes was also an early member of Halifax's chapter of ACT UP and was active in the Nova Scotia Persons With AIDS Coalition, working on its film production, Life After Diagnosis and was a founding board member of the Women and AIDS Project. Barnes was also published in Tide Lines, an anthology of lesbian writing by gynergy, the lesbian imprint at now defunct Ragweed Press in Charlottetown.
In April, 1993, Barnes travelled to the Queer March on Washington with DanSmith?, MichaelCharland?, JaneKansas, LizVanBerkel? and TomRomard?. The group's thoughts and exploits were the cover story of the spring 1994 edition of the GAEZETTE and excerpted by RobinMetcalfe on CBC Halifax. Barnes won swimming medals at Gay Games 3 in Vancouver (1990) and Gay Games 5 in Amsterdam (1998).
The March 1994 WayvesMagazine has a two page "Farewell" article.
Barnes is recently published in Persistence: All Ways Butch and Femme (Arsenal Pulp Press, 2011).
---
This page is part of the HistoryProject and NeedsPicture.