in the Dinette, ca 1991
Jane Griffin Kansas
June 5, 1954 - December 18, 2022
Born in Wichita, Kansas did most of her growing up in Ottawa. "She is a high school drop out," she wrote while editing this page herself in 2013.
Jane moved to Hubbards, Nova Scotia in May, 1986 and did odd jobs, worked for the school system as a teaching assistant and then opened Debbie's Dinette, a very gay friendly eatery -- see its page.
She moved to Halifax in January, 1993 and immediately became the janitor at Rumours and co-host of "TheWordIsOut," the great CKDU queer newsmagazine radio show. She contributed the column, Quiet Noise to WayvesMagazine and became president of GALA, survived a bitter impeachment and went on to work on PrideCelebrations while the committee was chaired by LynnMurphy. Kansas ended up co-chairing Pride with TomRomard?. Her greatest achievement was switching the location of the after-parade reception from the cold dank windowless Rumours to outdoors, out in the open, out in public, Sackville Landing, and on that first year the sun was strong and "Rise Up" by Parachute Club blared from speakers as parade celebrants arrived for this proud celebration.
In 1997 Jane contributed an essay, Comfortable Shoes about queer identity, an autobiography, and some thoughts about the interaction of art and activisim, to the historical art show catalong, QueerLookingQueerActing.
Later Kansas wrote for The Sunday Daily News, often on gay issues, and for TheCoast.
In the summer of 2004 she went on a long solo bicycle trip down the east coast of the US, documented in Kansas zine:
Volume 1, Number 0, July, 2004: getting ready for the trip including her friends' reactions to the trip, an article about bike store owner Dave Nauss, a map of her route and the list of things she's taking with her.
Volume 1 Number 1, August, 2004: Maine & New Hampshire.
Volume 1 Number 2, September, 2004: NH, VT, MA, NY, PA
In 2005 she wrote a touching tribute in TheCoast to her long time friend, collaborator on art works, and fellow activist MichaelWeir shortly after he died. It is archived here.
Jane had a lifelong relationship with Harper Lee's To Kill A Mockingbird. A partial archive has been retrieved and is online here. Her reasons are laid out in Why the site?
In 2008, Andrea Dorfman made Lost and Found, a short documentary about Jane, Harper Lee, and To Kill A Mockingbird. Dorfman said, "This is a video I made through the International Documentary Challenge about Halifax artist and writer, Jane Kansas' collections - specifically her collecting of knowledge about Harper Lee and her celebrated novel, To Kill A Mockingbird."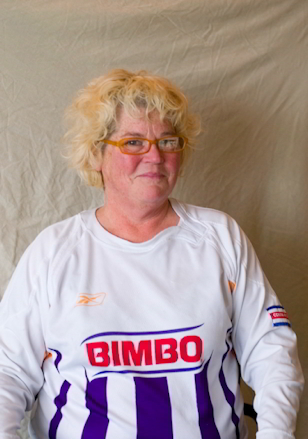 November 2011
On May 1, 2010, she began a walk from Helena, Montana, walked for four months and ended up in Portland, Maine. There's a big article about the trip, "Determined to go the extra mile" in the August 20, 2010 ChronicleHerald, and she published delightful set of zines about it.
In November, 2010, her play, The Asshole Monologues was in TheSexFestival 2010.
In 2012 Kansas again worked with the collective of WayvesMagazine.
Jane's play, My Funeral: the dry run ran from August 29, 2014 to September 6, 2014 in the 24th Atlantic Fringe Festival at (((Parentheses))) Gallery on Gottingen Street, Halifax. Volume 1 No. 5 of her zine was the programme.
This photo: "Bimbo" is the Costa Rican version of Wonder Bread and she almost certainly got the tee shirt while there.
Here she is introducing herself at the Elderberries Salon in 2019.
Jane's contribution to the 2019 AtlanticFringeFestival was My Dead Dad The full, hilarious, touching video of it is here. (Youtube, 50 minutes.)
Jane wrote and starred in My First Heart Attack in the AtlanticFringeFestival 2021. Here's the video on Youtube, a little over an hour.
You can get a sense of the monumental contribution to Q life in Halifax by viewing the list of all pages in the Halifax Rainbow Encyclopedia that mention her.
June 5, 2023: My Funeral: The Real Deal at the BusStopTheatre.
At Jane's Passing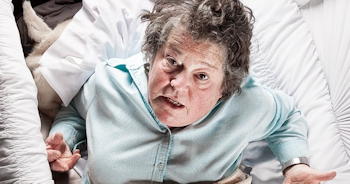 Jane's funeral, held on her birthday, June 5, 2023, was elegantly reviewed by ThomFitzgerald in WayvesMagazine, Review: My Funeral: The Real Deal.
LisVanBerkel?: Jane Kansas left the planet this morning at 08:45 under the excellent pain-freeing care of the nurses and doctor of Valley Hospice. Jane's "best sister" Sue and I were with her at the end of this trip into renal failure. If you know Jane, believe me Jane died as she lived — exactly as she wanted. Loved by many and reviled by others, she could be a bitch or the best thing since lime pop was invented — her favourite. I understood a fraction of everything she knew, and I loved her for almost 30 years, even when I wouldn't speak to her. She was the most unusual person I will ever meet. Bon voyage.
Media
RichardCrooks?: She and Liz were the reason I came out in high school in grade 10: they, along with Phyllis Sweet toured around to the high schools talking sex, sexuality, orientation etc in 1991 / 1992 and dragged myself and three others out of the closet. I approached her at the Fringe a few years back and told her the story, and we had many tears of joy and sadness over a drink after the show that night. When we volunteered together at Fringe it was always fun. I will miss her.
LeeAnnePoole: She didn't like me at first. But because of the good company I kept, she decided there must be something she wasn't seeing. Jane made this clear to me enough times that I thought, 'if she's willing to tell me how much she didn't like me... maybe that means she likes me now.' Jane was brilliant in many ways. Quietly generous to many... more generous than people who have much more to be generous with - but Jane always found a way to give. And I feel lucky to have known her.
KimVance: My fondest, funniest memory of Jane was an experience at CKDU. I was dabbling in some queer radio programming and Jane was the guru in that regard. She had just finished her show and we were chatting in the common area when the folks who did the Arab radio programme walked in, and were introduced to the two of us by the program manager. There was a moment of awkward silence when the manager was describing Jane's show to the two guys and I really wasn't sure what was going to happen next. Without skipping a beat, Jane broke the silence by joyfully talking (in Arabic!) about her travels in the Middle East. After we all picked our jaws up off the floor, it was all laughs and comparing programming tips. Jane has a remarkable way of bringing people in.
ThomFitzgerald: Has anyone ever worked so inventively to prepare us for their eventual passing? Jane Kansas's three Fringe Festival shows, "My Funeral: The Dry Run" (my favourite fringe show of all time), "My Dead Dad" and "My First Heart Attack" were creative explorations of inevitability. She wanted us to see the funny in it. Jane was a dear friend of decades, and she kept my house running for many of those years when I was too scatterbrained to do it myself. In fact, she was at my place so often she was mistakenly cited as the resident on the neighbourhood contact list. Jane passed this morning at the Valley Hospice. She was a most unusual and brilliant person. She'd argue with you about anything-- and then she'd bark out a gleeful laugh to end that argument, having had her fun. I will miss her dearly. And though I knew it was coming, I find today there is no preparing. I suppose I'll clean the house... though I will surely not get it up to her standard. "Improvement, not perfection," she used to say all the time. I'll bear it in mind.
NormanMoulton?: I'm grateful that she gave so much of herself to the rainbow community.
Fan Mail
Jane Kansas is to Halifax as butter is to bread. When good writing comes to mind, locally she has no competition. She co-chaired the PrideCelebrations one year and presents "Reading Out Loud" during Pride every year.
---
I wish the Daily News would get their head out of the sand and get Jane back into the paper. She was certainly an interesting part of the paper's content.
This page is part of the HistoryProject.