Brian Mott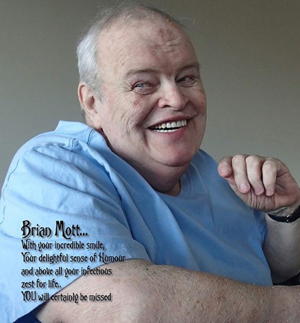 2014-10-17. Photo by AnitaMartinez
May 13, 1942 - October 31, 2014
Douglas "Brian" Mott passed away October 31, 2014 at home. Born in Saint John, NB. Brian was an avid volunteer for Hope Cottage, the IWK Hospital, Phoenix House and CARAS/MortonHouse, and was Founding Manager of Alcare Place, Halifax, and a founding member of Sparrow.
AnitaMartinez says, "Brian was at the October 27, 2014 ElderBerries meeting at Northwood and was so excited about being there. He loved the Elderberries and would come out anytime he got a chance to do so. I asked him, after he looked at this photo, if he would mind me sharing, and he said it was the best and happiest photo taken for a long time..YES..of course..share away he said and laughed..eyes sparkling and enjoying the moment and the people in it."
---
This CategoryPerson page NeedsContent.