Drag 101, Part 5: Lips — The Final Step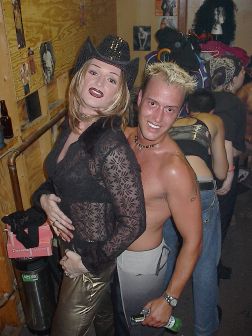 We made it, were finally at the end. With the completion of your lips you have the basics needed to create with a little practice a flawless face. You might think that your lips are hard to do but actually I find them the easiest and usually do them myself in about five minutes. To make your lips look there best follow these basics.
Preparation: If your lips are dry and cracked the lipstick or gloss you apply is going to clump and look terrible. Solution: Wet a baby toothbrush and scrub you lips with it and moisturize them. You should scrub them about once a week and be moisturizing them as often as needed. The Blistex lip balms in the tub is the best thing for this at any given time I have one of these in my pocket. When getting ready to apply your lips moisturize them then with a Kleenex clean off any panstik and then moisturize them again (Don't apply too much as it will cause your liner to smear, blot your lips if you think that you have put on too much)
Liner: A lip liner is essential for many different reasons. It gives you an accurate shape to your lips by allowing your to even out or increase the size of your lips. It keeps your lipstick or gloss from bleeding and it makes your lipcolor last longer. As far as color goes use whatever you want. I usually prefer a rich purple tone but now I've gotten into a more nude liner. Just do me one favour please please please, don't use black eyeliner for lipliner!
Color: Lipstick, Lip Gloss, Stains, Clear Glosses its all good. Use what you feel comfortable in the lip liner is the real important part.
Application: So your lips are moisturized and ready? Start by looking at your lips and figuring out what direction you want to go. Are your lips uneven, too small or maybe too big. Usually you want to create a more full lip so that's the application we will go through here today. Take a look at your natural lip line. You will aim to draw your liner slightly outside of this natural line. Starting in the centre of your lips (in the bow of your mouth and on the line) draw softly outwards towards the outside corner of your mouth. Do both sides softly creating an even line before you go over and over the line to create a solid perfect line; remember that you are aiming for a more voluptuous bow shaped lip. Line your bottom lip taking care not to make your bottom lip look to large. With most bottom lips you can follow the natural lip line. Fill in your lips with your color of choice, blot if needed and reapply liner to create a smooth looking lip with a soft blending between your lip color and your lip liner.
That's it, you're done! Add little things to your face like glitter and beauty marks if you want, touch up your powder if necessary and your good to go.
In upcoming issues we will be creating different looks for you too try and even going in some drag king stuff. I hope you've enjoyed these issues I know I enjoy it when I go out and see that people are using or at least trying some of the tips that I've given you it always makes me feel so good when people come up and ask me questions about makeup. We are actually going to start doing some makeovers in later issues which is going to be a blast — Stay tuned girls --- Love Always DevaStation.