Ed Savage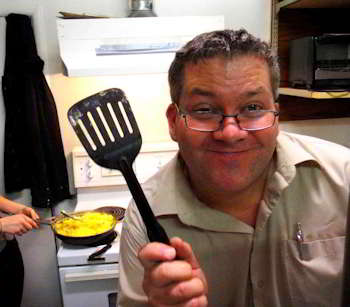 Mardi Gras Supper, March 3 2011. Photo by AnitaMartinez
February 24, 1967 – March 5, 2019
By Jason Spurrell, Rouge Fatale
Ed Savage. He was a well known name in our community. Not by this name, but by Boom Boom Lubalicious. Drag performer, entertainer, philanthropist, Pride Chair, Empress, Father, Mother, husband and friend.
Ed was born in 1967 and raised in Mira River, Cape Breton. They moved to Halifax and became heavily involved in the community here. To name just a few: he was one of the founding members of ISCANS, the Nova Scotia drag queen society, and was its Empress 4, 8 and 13 and had many out of town titles.
He was a tireless volunteer for the LGBT/AIDS oriented food bank, "Manna for Health" and producer of its main fundraiser, a Christmas banquet serving hundreds, and raising thousands of dollars every year. For many years Ed was co-chair of the Halifax Pride Festival, raising the profile of the festival with his characteristic "thinking big."
Ed helped to make drag into a well known fixture in the Halifax night scene and around the Maritimes. He would travel all over to help raise funds for charity and to help make drag more mainstream. He even helped produce shows at Sydney's Savoy theatre main stage and the Guild in PEI.
In 2013 he found the love of his life, John, they were married a couple of years later, and John was by his side until the end.
A light has dimmed down here and the sky has become a bit brighter. Shine down on us, your Majesty.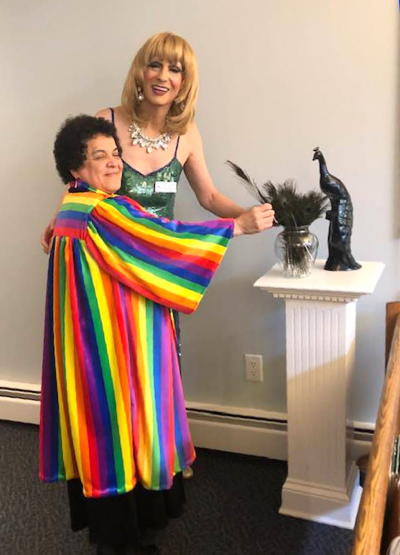 ElaineWalcott & MissVicki The 120-seat chapel was packed at the funeral service on March 16, 2019. Three drag queens did cheery, not dreary, songs about love, not loss; Rev. ElaineWalcott used her extraordinary ability to voice what was in most people's minds and offer suggestions on emotional and spiritual ways forward. MissVicki played piano before, during and after; again not sad music but celebratory. There were a few laughs and quite a few tears and lots of time for fellowship over what Rev Elaine pointed out is, an ordinary everyday eucharist.
2009 Mini Documentary with Ed talking about Boom Boom and her craft while putting on face.
Notes
Edward Charles Savage was raised in Mira River, Cape Breton.
2005 - 2006: chair of MacLeather
2005: Became "Prime Minister" - that is, Chair, of ISCANS
Also, over the years, ISCANS Empress 4, 8, and 13
In 2009, became co-chair of PrideFestival and was for several years after.
2009: Nova Scotia Community College produced a video with Ed and LynnLaurent talking about Boom Boom and her craft whiile putting on face for the 2009 International Documentary Challenge.
2013: created Frames For Change, a bowling fundraiser for the YouthProject.
2015 Married JohnBurke?
In the mid-2010s, Ed and partner John moved to the far north end of Robie Street and became very active with St Margarets of Scotland Anglican Church, right across the street from them.
Tags: CategoryPerson. This page NeedsBio.