George William Parker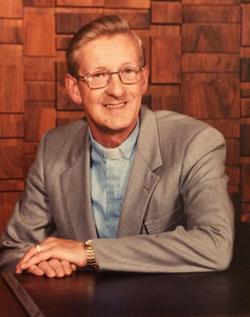 December 7, 1929 - December 11, 2016
Rev. George William Parker age 87 years of Bedford passed away peacefully on December 11, 2016 at the Abby Lane Hospital in Halifax.
George was born December 7, 1929 in Natick, Mass; his parents were from Newport, Hants County. Educated at Greehill School, Windsor Academy, KingsCollege?, Halifax, and the University of London, England. Ordained as an Anglican priest in 1954 in Calgary Cathedral, served as a missionary on the Blood reservation in Cardston, Alberta, married in 1956, and moved to England in 1959 where he worked as a parish priest. Later, in Quebec he taught in French and English schools. Returning to NS in 1981, he was successively Rector of the parishes of Digby-Weymouth and Rawdon, retiring from full-time ministry in 1991. In later years he wintered in Guadalajara, Mexico, where he was organist and assistant priest at Cristo El Rey, Iglesia Anglicana de Mexico. He is survived by his former wife, Trudy Parker, his five children, Stephen, Brian (Rosemary), Shauna, Anita (Edwin) Chisholm, Tim and seven grandchildren, Georgia (Pedro) Parker Hanks, Christopher, Benjamin (Mikka), Madeleine, Oliver, Emma Chisholm and Kathryn Chisholm.
George lived a good life and left the world a better place
One of the founders of Integrity, the Anglican LGBT group, in the early 2000s.
George hosted many summer OverThirtiesGroup parties at his home in Greenhill, Hants County. One of the highlights of the occasion was a walk back in the woods to a lovely waterfalls... to occasionally partake in a skinny dip!
Funeral service will be held 1:00pm on Monday December 19, 2016, 2016 at Saint Francis by the Lakes Anglican Church, 192 First Lake Drive in Lower Sackville. A reception will follow service in the church hall. Complete obituary will be posted soon.
This page NeedsBio