Gloria Borden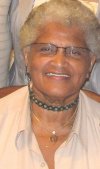 Circa 2008
Early member of and longtime door-person for GaeGala.
As of 2008, Gloria was the manager Of Palooka's Boxing Club, at 2112 Gottingen Street.
On September 23, 2019 Gloria was awarded an honorary degree Saint Mary's University which recognized her as an outstanding Canadian.
"Gloria Borden, a trailblazer and champion for the arts. One of 18 children raised in New Glasgow, from a young age Borden grew to cherish music, community, sports and boxing. All of these interests represent areas in which she would excel. Borden was the first Black hematology specialist in Canada and participated in research related to the field. Borden was also the first female boxing promoter in Canada and was inducted into the Pictou County Sports Heritage Hall of Fame for her time as a student-athlete. In music, she has been involved in numerous productions and produced the acclaimed God's Trombones and founded the Nova Scotia Mass Choir."
---
This CategoryPerson page NeedsBio and NeedsContent.