Louanne Cooper Wedding and Scenic Photographer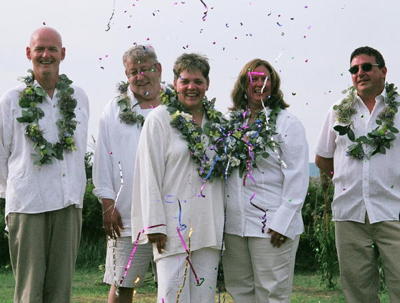 Since graduating from Ontario College of Art in Toronto, ON in 1995, I have been photographing people and places. My life partner, wife, Mardi Cameron and I are avid campers, especially within Nova Scotia be it inland, along the shore or venturing through the backroads, I am able to photograph the beauty of my home.
We were married on August 19, 2006, of course at MacLeods Beach Campsite in Dunvegan, Cape Breton amongst many loving friends and family. It took a team of beautiful friends to help pull off such a great event.
I owe a debt of gratitude to RonGarnettDoucette, my friend and coworker, who was our piper. Ron and BryanGarnettDoucette are one of the few determined couples who helped pave the way for Mardi and I to be legally married.
A huge thank you also goes out to Tim Keenan, my friend & Best "manaid of honor" leading the catering crew and knowing how to use his Big Boy barbeque while organizing the extravaganza dinner. (Tim has catered for over 15 years, with Blue Willow Catering)
Weddings are filled with many hours of prep, many phone calls, hours of driving around-purchasing and booking this and that. With all of that said, it is so worth it.
I have photographed straight and gay and lesbian weddings however now my main focus is on my community, bringing my talents to their "so worth it" day.
Contact LouanneCooper - Wedding Photographer 404-2752 hm mailto:loulavega@hotmail.com
Contact RonGarnettDoucette - Piper for Hire mailto:ab274@chebucto.ca