Sauna GI Joe
Sauna announced summer 2020, renamed to DougMelanson's original name & logo, SeaDogsSauna September, 2020.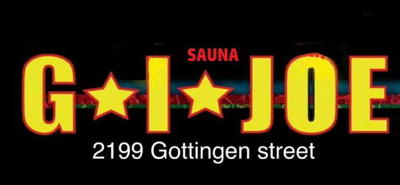 Summer 2020
The promo: Halifax's Only Bathhouse Offering, (18+) Lockers & Rooms Air Conditioned Dry sauna Hot Tub Large Flat screen Tv's in Common Areas Voyeurs/exhibitionists area XXX movies and music Common showers Snack bar (sandwiches, chips, chocolate, soft drink, etc.
902-406-3005
4 Hour Locker ANY day of the week from 4pm-6pm for $8 tax included
August, 2020: Posting by Josh Scotia to "Gays in Halifax Nova Scotia" facebook group says opening 2pm Thursday September 17, 2020.
September 12, 2022: Management announces it has chosen to revert to the Seadogs name.