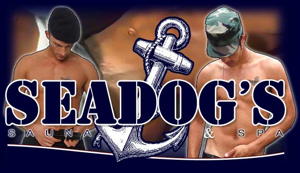 Seadogs Sauna
Closed as of August 1, 2022. In October, 2022, NightSpa opened in that space.
October 1, 2022 : Scuttlebutt of a new place opening up in that space. Details will be posted to this page: 2199 Gottingen.
From 2005 to 2022, Seadogs Sauna was Atlantic Canada's only Men's Bath House, located in the North End of Halifax and offering a premiere alternative to the night club experience. 18+.
Features included a 6-man hot tub and dry sauna, private rooms and locker rentals, dark room and lounge area, voyeurs / exhibitionists areas, snack bar and air conditioned locker room.
Rates
Discounted rates for guys 18-21
4 Hour Locker ANY day of the week from 4 PM to 6 PM for just $8, tax included.
---
History
2003
Why a new sauna in Halifax? Owner DougMelanson had been thinking about a new business for the last 3 or 4 years. He was looking for something linked with the gay community, and a spa is definitely a community facility. Besides being gay, Doug is a businessman. He's owned companies ranging from antique stores to Christmas tree plantations, and he expects Seadogs to make money.
In the summer of 2002, when he decided to move from Ottawa to the East Coast, he had looked at Moncton and Halifax. Originally, he thought of opening a new bar in Moncton, but after spending a few months looking at opportunities there, he shifted his focus to Halifax. Halifax had more attraction to him both personally and as a business proposition. He looked at spaces available and different types of businesses. As part of this process, approached the owner of the Apollo to see if he was interested in selling. He wasn't, but Doug felt Halifax had room for two saunas. He felt the time was right for Halifax to have a sauna more similar to other major cities across Canada. He intends Seadogs to focus on travelers, as well as the local community.
The national network between baths will help advertise the new facility, and attract customers.
Seadogs Sauna And Spa opened at 2199 Gottingen St in 2003 right next to the Halifax Backpackers Hostel. It was upscale - a showcase facility for Atlantic Canada. Colour throughout was navy blue, red and white. The wet areas were all white, emphasizing cleanliness. Marine lights and anchors helped reinforce the nautical theme, appropriate for a port city. Overall, the image was Clean, Safe & Secure.
Three types of rooms were available: the standard, or change room, was similar to those of a typical gay sauna, with an open ceiling and lockable doors. All rooms had a full-size locker. The 39-inch bed had a real mattress, with a sanitary covering and a sheet. Even a pillow was included. The next step up was private's quarters, which are completely enclosed, with a mirror, locker and single bed. The Deluxe room was also fully enclosed, with a mirror, VCR, and double bed. There were also forty-five full-size lockers.
Other facilities included a dry sauna, a TV lounge, an Internet terminal, a sling room at the back of the building, jail-style labyrinth, a hot tub for 7 or 8, vending machines, and a health information section away from the main traffic of the bath. Washrooms, showers, and free condoms rounded out the offerings. Seadogs was totally non-smoking.
SeaDogsSauna was licensed: a selection of domestic beer, Corona, Rev and Menz Pale Ale, which "Boss Dog Doug" commissioned for businesses MollyzDiner and MenzBar.
About the logo: ChrisAucoin says: The First Seadogs ads I did for Doug and WayvesMagazine used just the stencil style lettering of the name. That + the anchor first appeared in the May, 2004 issue of Wayves. "Sauna & Spa" was added to the logo as of October, 2004.
2014
Seadogs was purchased by married partners John Warren and Kevin Warren in May of 2014. Operated under their ownership before closing in late August the same year. They filed for bankruptcy the next month. DavidLandry took over the operation shortly afterwards and renamed it Torpedoes.
2020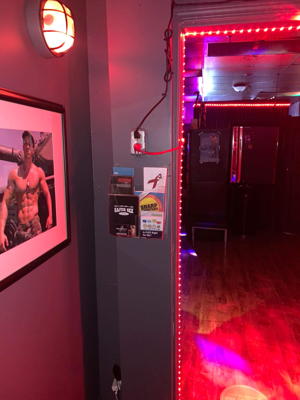 Torpedoes closed in the spring during the early stages of the COVID-19 pandemic.
JoshuaErnst? acquired the business and reopened it on September 17, 2020 as SaunaGIJoe, but shortly after, reverted to the original name. Changes to the operation include later opening hours and converting the front lounge area to a locker room; the central area, where most of the lockers were originally concentrated, became a lounge. On January 26, 2021 he said, "I'm out of the business, as of 2 or 3 months ago. You can contact ChrisSernick?."
Click the image to the right for a directory of interior shots and a 72-second video walk-through of the space.
2022
August 1, 2022 : Facebook post announcing closure.
---
This is one of many GayBusinesses