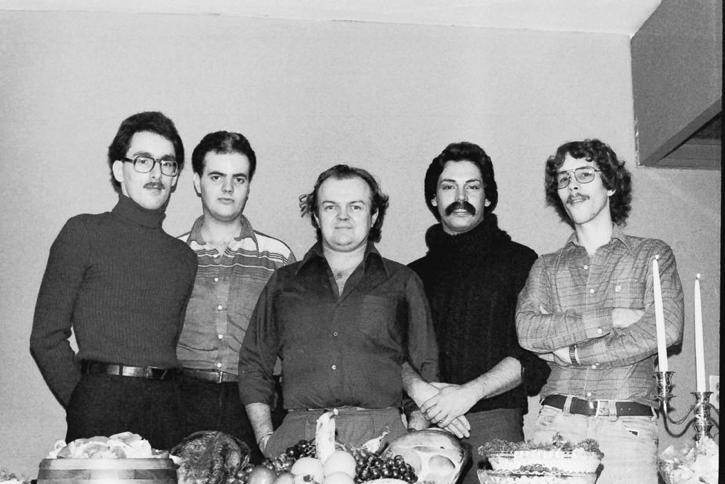 ---
The October, 1977 Atlantic Gay Conference catering team: John Hurlbert, John Marr, "Madam Sugar" Tommy Miller, Keith "Miss Kitty" Dobson, Clyde Richardson. Photo by Robin Metcalfe.
Robin writes:
One of my memories of Tommy was the brilliant buffet he organised for the delegates at the October, 1977 Atlantic Gay Conference held at the Turret. Thanks for the beauty you brought into many people's lives, Tommy.
At the time, I was part of the "left" activist contingent within GAE, and the men in this picture tended, I think, to view us humourless ideologues with no appreciation of Camp. Which was, to a certain extent, true. Clyde had a foot in both camps (pun intended): he and I were dating for a while. And of course John Marr and Tommy Miller were certainly courageous activists: they and Clyde were founding members of GAE in 1973. While we lefties were busy chairing plenaries, these guys were producing this magnificent feast. I see a certain proud challenge in their gaze.