Three-conference series.
1977

Atlantic Gay Conference Theme: "Our Atlantic Gay Community - United Against Oppression." October 8-10th. The weekend included the first gay march in Halifax at the end of this, on Monday, October 10, 1977, on the Sackville St side of CitadelHill, meetings, dinner and dance were at The Turret, an "Artisan's Expo" as well as the workshops and meetings. The conference was joinly organized by GAE and APPLE (Atlantic Provinces Political Lesbians for Equality.)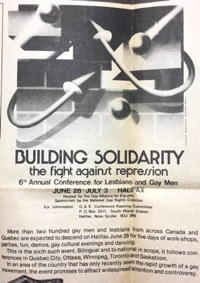 1978 Poster by RandGaynor
1978

1979

1980

1982

1993
This page is part of the HistoryProject.