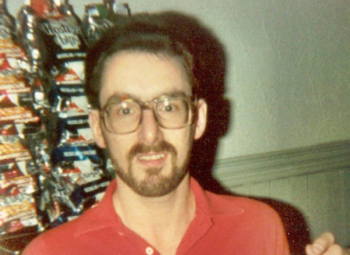 John Hurlbert in front of the candy rack at the upper bar of The Turret, late 1970s
March 9, 1950 -- July 20, 2017
Born in Springhill, Nova Scotia, John was employed in the hospitality profession all of his working career.
John managed The Turret in 1980 after BobErtel. He was a small man, quite studious looking with his glasses and receding hairline. Very nice individual, good sense of humour.
"The original Jewish Princess, but still generous." -- JimDeYoung
John later ran CafeQuelqueChose.
CliffLeJeune writes: John was like an encyclopedia for the Halifax gay community. I met him through friends in The Turret days. I guess I made a deeper connection when I dated (ever so briefly) GaetanDugas, because he was roommates with John. I had a lot of friends who were Air Canada stewards (when they all flew out of Halifax) and that was also a mutual meeting point for John and I. I started working for him at the Cafe shortly after he and MichaelSchneiderman? bought it. I don't think I ever had as much fun as I did in those days. We used to sit after work and gab about the crowd who came into the cafe and of course, about the gay community. I think John knew everyone, and I am not exaggerating. He knew the business community as well as he knew the gay community and I never tired of his stories. He was always supportive of my theatre career and always kept my position as a waiter at the Cafe ready for me when ever I came back from doing a show. He was acerbic and I always marvelled at how he could chew someone up at spit them out when they were assholes. He had the ability to do that like no one I knew. He was also a very loyal friend. He often sat me down to give me a "lesson in survival" even when it wasn't requested (lol). I didn't see him often these last few years and was so happy when Micheal Schniderman would come to town because it was a chance for us to get together, which was rare. We don't get a lot of friends like John in our lives and I will feel the loss for a long time. He was, without reservation, an icon of my generation, I will think about him always.
RandyKennedy writes: I will always remember his snarky remarks, quick wit , and sass. I remember him joining us on the Pink parade when we were patrolling the Gay cruising areas during one summer when Gay bashing was high . He was one of the only one of us with a car and would chase down the bashers to get their licence numbers to report to the police . He was one of a kind and will be missed . Another one gone too soon . RIP
CarlBaxter? writes: So sad to hear this as we were just talking about him with TommyBurns at the pride parade and wondering where he was. An old friend from high school and since 1972 here in Hfx. He was quick, sharp, witty and concise in his appraisal of a situation. I will miss our chats and chuckles. RIP.
This page NeedsBio and NeedsPicture