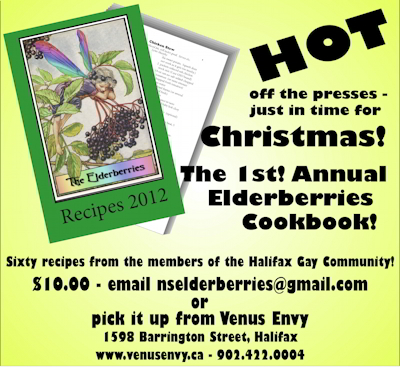 In November, 2011, the ElderBerries published a fundraiser recipe book featuring seventy beloved recipes from the members' kitchens.
Samples:
Page 52-53 Deb Mather's Seafood Chowder & Edie Hancock's Maple Glazed Parsnips
The cookbooks sell for $10 each. There were discounts associated with the first printing and they sold out quickly. For the second printing, all cookbooks are $10.
The recipe books are fund raisers for Elderberries functions -- to pay for meeting space, transportation and small gifts for guest speakers, stationery & stamps, printing costs for the promotional brochure, and supplies for the pot lucks.
The cookbook is available from:
Recipes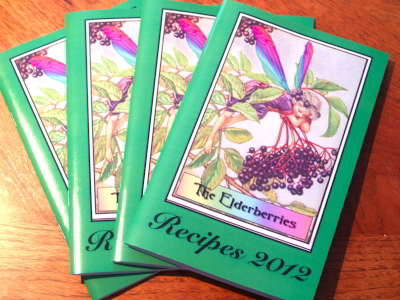 † indicates a gluten-free recipe
Bread, Bagels, and Scones

Bagels By Jane Kansas; Eggless Scones; Whole Wheat / Raisin / Multigrain Bread

Breakfast Dishes

Pancakes; Yogurt †

Desserts

Angus' Pots de Crème; Bacardi Rum Cake; Bavarian Apple Torte; Bavarian Cream†; Bread Pudding; Cousin Barb's Cake; Dave's Mom's Lemon Squares; Donald Higgins' Baked Pears†; Ginger-Almond Cake†; Grand Marnier Soufflé; Lemon Torte; Mi'kmaq Dessert; Nubian Chocolate Roll; Poor Man's Fruitcake; Pumpkin-Spice Bundt Cake; Quentin Crisp; Seven-Minute Icing; Squares - Chocolate & Walnut; Rainbow Squares

Finger Food

Hummus; Mushroom Croustades; Rob's Nuts & Bolts; Shropshire Walnut Spread on Belgian Endive Spears†

Main Courses

Beef Croquettes; Beef Paprikash; Cheese Soufflé; Chicken Stew; Creole Chicken; Hungarian Goulash†; Indonesian Hamburgers; Jambalaya Creole Style; Lobster Nova Scotia Style; Ma Po Tofu; Meat and Vegetable Casserole; Neighbour Liz's Cajun Ribs; Old-Fashioned Beef Stew With Winter Vegetables; Roast Loin of Pork with Fresh Coriander and Lemon Stuffing; Savannah Crab Cakes; Savoury Meat Pie; Shipwreck Casserole; Shrimp Skillet; Slow-Cooker Pulled Pork

Pickles

Microwave Bread and Butter Pickles†; Microwave Dill Pickles†; Marinated Mushrooms†

Rice

Lemon Rice Pilaf†; Nasi Goreng (fried rice)†; Perfect Steamed Rice†; Rice Variations†; Sticky Rice, Sweet With Mango†

Salads

Cherry & Walnut Salad with Maple Dressing; Uncooked Cranberry Salad†; Tomato and Olive Salad with Cumin Dressing†; Tomato/Parsley Salad†

Soups and Chowders

Celery Soup†; GPB's Mushroom Soup; Hot And Sour Soup; Paul's Favourite Fish Chowder†; Seafood Chowder†; Shrimp Bisque

Vegetables

Eggplant Casserole†; Four-Square Root Vegetables; Maple Glazed Parsnips†; Turnip Poulette; Stewed Tomato/Corn Casserole