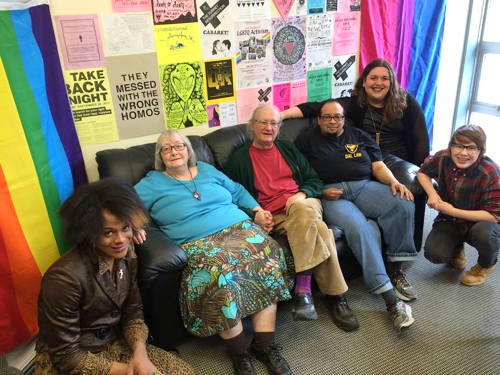 L-R: Jade Peek, LynnMurphy, JimMacSwain, MikeDaviesCole,Rhiannon Makohoniuk, and Oliver Oldfield
The Nova Scotia Rainbow Action Project's Youth and Elders project seeks to bridge the generational divide within the LGBTQ* community by sparking and documenting intergenerational LGBTQ* dialogues.
In 2016, NSRAP, The YouthProject, and the ElderBerries produced three short video interviews with LGBT Elders and youth (JimMacSwain, LynnMurphy, MikeDaviesCole, Rhiannon Makohoniuk, Jade Peek and Oliver Oldfield) and on April 16, 2016, they were screened.
JimMacSwain & Oliver Oldfield
Oliver attends Halifax West High School
Q: How did your parents, family & friends react and support you? Jim talks about the nonexistence of community in the 1950s, and coming out in Halifax. "My brothers were very supportive, and my friends were very supportive. It was interesting to take on this role of a bearded lady and take on this theatrical idea of being cross gendered."
Q: What was it like to come out then? "When I came to Halifax, I heard about GAE - probably by word-of-mouth."
LynnMurphy & Rhiannon Makohoniuk
Q: What was GaeGala?
Q: What kind of social and meeting spaces were available for people? For lesbians, mostly, it was The Turret.
Story about the piece of art, Tits'n'Lipstick that got defaced - photo on the page The Turret.
Description of feminist / lesbian meeting place ForrestHouse, and the variety of organizations that used that space.
Very entertaining story about the JuryRoom protest and
the perils of being bi in Halifax in the 1970s.
MikeDaviesCole & Jade Peek
Mike talks about being in the trans & two-spirit communities.
And about strife within the queer community.
And about being a visible minority which really eclipses issues about being queer, and "intersectionality" — "I can't walk in to a meeting and say, 'I'm only queer right now.'"