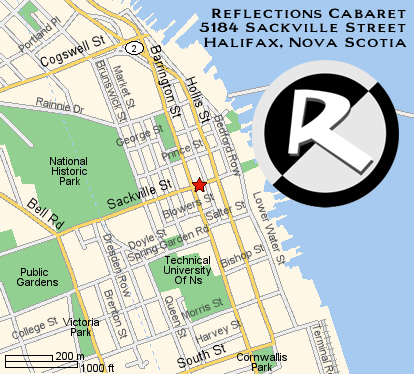 April 19, 1996

Grand opening weekend. There's a big article in WayvesMagazine (need which issue) by ChrisAucoin.

November 3, 2004

Awarded Best nightclub 2005 Best of Coast Awards. Also, winning again on the same night, for the 9th consecutive year, Best place to dance
---
Their self description, supplied some time before 2006:
Reflections has a long reputation for being the best place to dance; now it's been crowned Halifax's best nightclub too. "Above all, this is a place to go, relax and have fun," says manager Mike Schmid, "This is a no-labels bar, and we work very hard to make it feel comfortable, friendly and safe for everyone." Schmid says that the attitude of the bar staff -- usually more friendly than ferocious -- goes a long way toward ensuring that bar patrons have a good time. "People say, 'It just feels so good in here,'" explains Schmid, "because they feel safe, and they're having fun. That's what it's all about."
Whatever kind of music you like to dance to, chances are you'll find it at Reflections. "We've got a great variety here, from live heavy metal to dance, from DJs to drag," says manager MikeSchmid?. "We try to have something for everyone." And it looks like "everyone" appreciates their efforts: this is the ninth consecutive win for Reflections in this category. Next time you're in the mood to put on your boogie shoes, point them toward Reflections.
Halifax's biggest and best dance club with events every night of the week. Reflections was voted "Best Place to Dance" by TheCoast Best of Halifax Readers Survey for the past 7 years! Multiple mini bars make getting a drink very easy. The light show is a sight to be seen, and the sound system is out of this world! The city's best drag shows happen there often as well, including the annual Grammy Awards Drag Show. This club is known for their very friendly staff and "no labels" attitude. Everyone's welcome there!
While this particular bar has a visible population of straight people (especially on Fridays), it still has a zero-tolerance policy for Homophobic Abuse. The Gay and straight communities mingle well in this space. Reflections has created a lot of understanding and communication between the gay and straight community. It is nice to see people mingle who should be mingling. Now they know what we are like! Normal-like them! The straight boyzzz looove the drag queens!
Reflections has gone through many renovations in the past while. These include a beautiful new floor, which is blue, new leather couches, rehapolstered furniture, new interior lights, a new lounge area, new ventilation system on top of the existing one, new lasers and dance floor lights, expanded coatcheck, and freshly painted. Their DJ, Hedfones spins awesome music, with all the latest hits as well as classic ones too! This place is the perfect package-probably why they have been around so long.
Someone put together a panorama of the block.

Current Reflections Title Holders
Positive and negative comments can be left at ReflectionsCabaretRocks and ReflectionsCabaretSucks respectively.