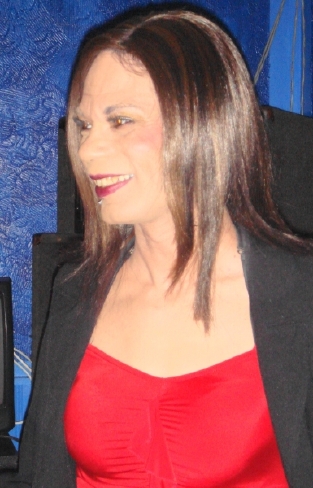 Blue Moon, 2007 (photo by BillMcKinnon)
New to Halifax from Saint John, NB. Mz Spy for Spy Bar (Now Closed) 2003-2004. Does a great Whitney Houston impersonation and also sings live. 2nd Runner Up at the 2005/2006 QueenOfHearts Pageant.
Coco will be a great asset to the Halifax GLBT community. She was great for Saint John, NB, and she will be great for Halifax. Great performer. Darren
NatasshaNlott writes - I think Coco's great.. her performances are high energy, she can sing live - and can actually sing, and she's a sweetie. Keep up the great work girl, you're making a good impression.
RoxburyInn writes: This girl can move it on the dance floor. Always 110% energy in her numbers. Love ya. PS: Loose powder.
MyraDementia? writes: I have been a close friend to Coco and had performed with her for years before she left for the "Big City" of Halifax. We all miss you girl!
AnnieCockadoo writes: THIS GIRL IS GREAT...shes wicked at performing and has the i dont care attitude about drag and does it for fun and not so serious like most of them, U rock Alicia Key bumps!
AmandaBenzova write: Ugh.. Ive known you for years and years, ever since i was a lil underager @ old Bogarts in SJ partyin with Topenga Rimswell (jesus save us). Just started really getting to know you after you moved here, your a blast! One of the few of us that can wear stilleto boots and still walk let alone dance in them at the end of the night! Love xo
DivadDivine Wrtires: Coco you truly are an amazing performer, a genuinely nice person. I look forward to getting to know ya better!
JuicyFruit writes: Thelma, I was talking to Louise the other nite and she said you were too much fun as a partner in crimes, loves it!
BaraCuda Writes: I love COCO - Amazing Person - Performer, Bar Tender - Nice ASS Too :)
Blue Moon, 2007 (photo by BillMcKinnon)