Daniel MacIvor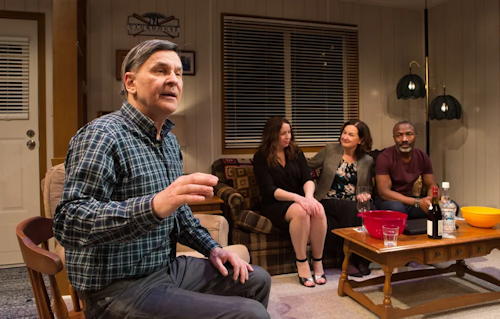 2019, New Magic Valley Fun Town, with Stephanie MacDonald, Caroline Gillis and Andrew Moodie
Daniel MacIvor (born July 23, 1962) is an actor, playwright, theatre director and film director. He was born in Sydney, Nova Scotia and educated at DalhousieUniversity.
Official webpage: http://www.danielmacivor.com
1998: Appeared in the ThomFitzgerald movie Beefcake.
July, 2006: his play CUL DE SAC performed at the PrideCelebrations.
September, 2008: his play, Wild Abandon performed at the AtlanticFringeFestival and reviewed in the
need more references here
October, 2008: he won the $100,000 Elinore and Lou Siminovitch Prize in Theatre.
http://en.wikipedia.org/wiki/Daniel_MacIvor
in 2019, New Magic Valley Fun Town was mounted at Tarragon Theatre in Toronto ."I was surprised at every turn by how the early broad funny moments led to still and poignant ones, how the initially comic characters deepened and deepened, and how the tears that rolled down my cheeks from laughing, hard, were followed by emotional ones earned by this moving portrait of difficult, traumatized humans trying to live and love as best they can." wrote the Globe & Mail reviewer.
This page NeedsBio