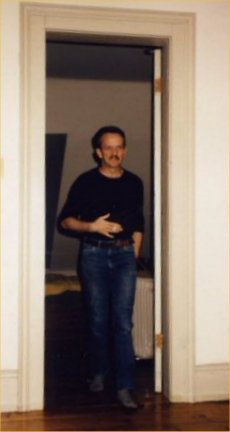 Tommy Burns ca. 1976
Tommy Burns
d. August 20, 2022
Tom Burns was the first chairman of the Gay Alliance for Equality, beginning in the summer (probably May or June) of 1972.
He also volunteered at TheeKlub in (and lived in one of the apartments in) the GreenLantern Building. Tom and DavidGray were close friends at the time.
Tommy said, "My goal at the time was to educate people. I didn't want people to go through what I had gone through, growing up gay, thinking I was the only one. Everybody hated you, even god and all that nonsense. And I thought, 'if I could help somebody have an easier time coming out than I, that's what I'm here for."
Tom was also a volunteer on the GayLine in the early years (1972 to 74-75).
He operated the AlternateBookShop on the top floor of the GreenLantern Building in about 1974 - 75. "I bought many books there. It was open only in the evenings since Tom worked at the Victoria General Hospital during the day (in the laundry department, I believe.)" says NilsClaussen?.
Tom was an early and ardent supporter of Dignity, the organization for gay and lesbian Catholics. After 1976 he was part of a Dignity Chapter in Halifax, along with Father MikeMacDonald.
In June, 2022
Here is the the video from the June, 2022 CBC interview: