R.I.P. Meshallay Crystal -- June 9, 2010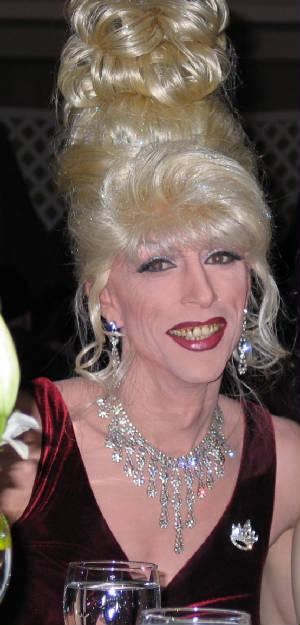 From: HISM Emperor V of Halifax, GaryTurner - Black.
It is with great sadness that I announce the passing of HISH Imperial Crown Princess II of Halifax, Nova Scotia. After a brief illness, Meshallay Crystal, aka BernieMacDonald? passed away on June 9, 2020.
I had the pleasure of serving beside Meshallay as Imperial Crown Prince II of Halifax, and also as an Executive Member of ISCANS while he was Premier of our Court. Bernie was a very dear friend of many years. A friendship I have always treasured.
There is so much to say about Bernie. I will always remember his wit, razor sharp tongue, the kindness and respect he showed for others, his glowing personality, his great sense of humor, his performances especially Dolly & Cher.
And so many more memories. Bernie and I were birthmates and for many years celebrated together. I will miss him so much as will all of Halifax.
My deepest, heartfelt condolences to his partner StevenCrossman? and both their families. Halifax has lost one of it's shining stars. Sleep with the angels my friend. I will miss you. Rest In Peace !
With Deepest Respect.
Public visitation at the Atlantic Funeral Home, 771 Main Street, Dartmouth will be held Sunday 2-4 & 7-9 PM. Memorial Service 2 PM Monday, with a reception to follow.
Private family interment at a later date.
---
I can't believe you're gone...you were a bright star in those glory days of drag back in Hlfx in the early '90s...........Tiphoney O'Really
CheriseDq -- RIP Meshally . Was a pleasure knowing you, working & partying with you. You will be missed. Cherice Blowsjus
RIP Meshally, we miss you already.
---
Benet - God Bless, you will be missed. Best regards to family and loved ones.
---
Meshallay was still very much a member of our community even though she was not actively been involved in performing or doing drag for some time. Performed a great Cher and Dolly Parton!
AmandaB? - MESH! Cant wait til Cher! Concert/show! It'll be fab girl!
DivadDivine writes: Meshallay, Girl I have enjoyed getting to know you. You are an amazing person and you look great. You need to come out and perform more often sweetie! lol
Meshallay was someone special who had a heart of gold and yes the name is right she will lay who ever she wants. You could ask her about a a snow storm and jumping snow banks in heels to go to a Gay bar on Granville Street. She was a wonderful person. She had been doing drag in Halifax for years and years and years and YEARS. She was appointed Imperial Crown Princess II and was first runner up for Mz. NRG 2002. She was the Susan Lucci of the drag world till Michala took over. She was famous for her Dolly, Cher and Dusty Springfield impersonations.
rougefatale: We laughed and we had the same mind.. you and i are wired the same way hun, and if i ever get to be half the queen you were, then i will die happy. i will never forget that trip home from c.b. where all we had to do was look at each other and know what the other was thinking... too too much. lol. i am so glad to be in your family and proud to have ever knmown you.
JuicyFruit: OMG, I just heard the grand news about winning Queen of Hearts...congrats hun!
DivadDivine writes: Congrats sweetie you are so deserving of any title you run for!! Had a blast at the birthday show lol My god Grandma got a new hip and she just had to go out and prove she can do the splits like she use to and roll around on stage with Natassha N! lmao Was a hoot!! And again Congrats on winning Queen of Hearts.
LadySchapeau writes: Congratulations on winning Queen of Hearts. Besides the other top Queens, I have always admired you and your efforts. I'm positive that Rouge Fatale was most glad and gracious to hand the title to you. I'm kicking myself for missing the show, but from what people tell me, it was a grand night. *bows to the Queen of Hearts 2006/2007*