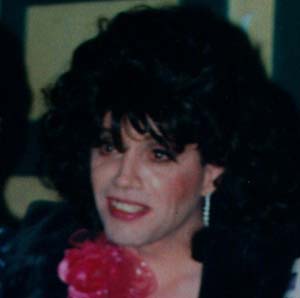 Amanda Lynn Harding Storm, August 1999
One of the grand dames of drag in Halifax during the late 70's & early '80s, now as Amanda-Lynn Harding who can be caught on . She celebrated 27 years of doing drag in September, 2004 in Halifax and in April, founded and is owner InternationalDragQueensAndFriends.
My god girl, you have come a long way baby. She is the proud drag mother of MzNrg 2002-2003 AmandaBenzova. She made a grand re-apperance in Halifax for the first time in nearly 19 years at ReflectionsCabaret and ClubNrg on December 15, 2002. Things have change a lot from the day of the The Turret, and those who we have lost.
She also remebers the first time JennyBlake performed and by chance still has a pic of her in that yellow jump suit -- my, she has changed.
She is a firm believer in D.Q.R. (Drag Queen Revenge), and is still madly in love with her ex and offers a few quotes in regards to that situation:
"Many have gone before me and perhaps I must follow, yet I am alone in my journey as my path goes only in the direction that only I must go. Into the light."
"There's a wall in your heart that no one can get through and it's cold and it's dark and you don't have a clue but this wall it will fall if it's the last thing I do. This drag queen will get through."
"One day you will like me, as I once liked you. One day you will love me as I once loved you. One day you will want me, as I once wanted you. One day you will love me, and I wont love you!"
"There is no such thing as God. There are false things in this like God and Psychics they both are creators of false hopes."
"Never give up on the love of your life, if you do you will lose for sure."
"Never hurt someone a drag queen loves and cares about or you will be sorry."
There is a chance to make it in this business, do not give up so easily when you started into it get yourself a drag mother.
DawnDavenport writes: I miss you Amanda Lynn aka Emerald. I truly do. I've sent you Facebook messages. I'd love to renconnect.