The Party The Night Before And The Picnic
Summer 1981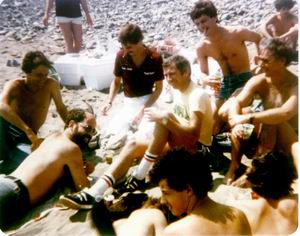 Some Of The Gang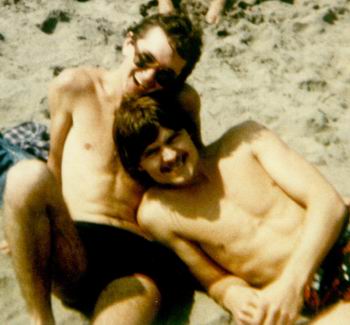 Reg and " T "
Joanne Bond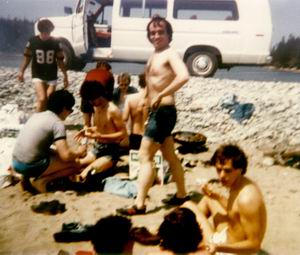 EmeraldGibson
Chris & Junior (With Laverne's PARASOL) And Locals
Cow Bay Beach seemed like a great place to have Halifax Gay Community's first out and out there picnic. The organizing done by GAE/GALA (The Gay Alliance For Equality) which I was also a member in good standing. ChrisShepherd and JohnHurlbert went out and did a scouting trip. They traveled past the " chocolate moose "(a bronze of a huge moose that had more bullets shot at it by passing hunters thinking they hit the mother of all moose)and finally they came across the ocean beach Cow Bay and decided this was the place.
I had thrown a party the night before at my apartment and in those days when I had them the whole bar was invited. At this particular one I was living on Morris Street in the south end; the place was large (the kitchen had over 100 drawers and cupboards). I had a coatcheck set up and waiters on the floor and a full disco system with all the latest tunes on tape or record (I had a huge collection). We partied until daybreak and then everyone scampered home to get ready for our day at the beach.
We arrived at Cow Bay around noon (I was there with my boyfriend "T") and it was a gorgeous hot and clear day. All of us scrambled off the buses and set up PINK TRIANGLE FLAGS to mark our spot on the beach. Randy Kennedy(SaraLee) dressed as (LAVERNE); a mad comedy routine that he had put together for drag shows. In his green polkadot bikini brief and matching blouse tied in a knot below his cleavage; a ladies straw beach hat and a pair of huge Elton John sunglasses and parasol; EVERY head on the beach turned as she did the twist in the sand dancing her her way across to our flagged off section.
JimDeYoung brought a rubber dingy which turned out to be a little hairy as the waves threw me out of it and onto the beach; but try, try again to make it past the waves.
There were some strange looks from straight folk but they seemed to take our presence in stride as at least a hundred lesbians and gay men frolicked in the sand and the water.
A barbecue was lit for lunch and a punch in a cooller was made ready (I can't remember who spiked it !) but the day got more pleasant as it went on.
We were having such a good time that no one noticed EmeraldGibson passed out on a white sheet sound asleep. When I finally woke him up and he stood; we gasped!!! Emerald was burned from head to toe (Red Lobster sign was less red). I do not remember if Emerald had to go for medical attention.
Around 6pm we were back on the buses and headed back to Halifax; all played out, tired,exhausted and ready for some sleep.
A few more picnics were planned and on one it was raining so it was held at The Turret. Music was played and some played cards. An impromtu strip show of sorts just seemed to happen out of nowhere (it was more laughter than a show).The manager JohnMarr was at home and when he just happened to call and found out what was going, someones ear had a ringing in it as he screamed for it to stop. The BBQ was set out in the alley below the fire escape, I had no sooner had it going when the firetrucks arrived because a tenant in the building next door thought he was being burned out. They (the firemen) had a good chuckle and let us continue amid the smoke.
---