Rumours Club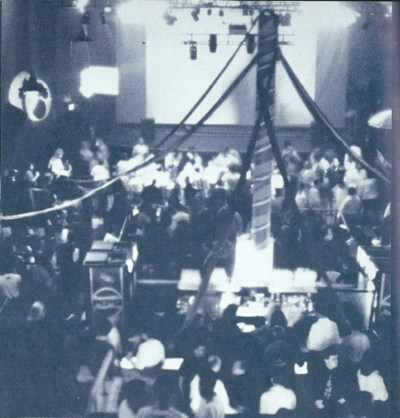 1993. Photo scanned from Queer Looking, Queer Acting
Rumours, like The Turret before it, was owned and operated by the gay community, GaeGala. We "moved" the bar from The Turret on Barrington Street to across from the Texpark at 1586 Granville St and renamed it Rumours in 1982, and bought and moved to 2112 Gottingen Street in 1987, where we remained until GaeGala's, and the bar's, death in January, 1995.
The Rumours logo was designed by ArthurCarter.
Rumours was the biggest dance floor in Eastern Canada, and a place filled with wonder and memories. Things haven't been the same since it went away, and there are many who really miss it.
DanielMacKay says: I helped build the Granville St space, it was a great time. The bar was run by the community, of course, as The Turret had. When we moved to 2112 Gottingen, we hoped the space would become a community center - and it sort-of did. The Projection Room was a very functional meeting room high up in the building, but although the basement never quite worked as a large meeting room, it did have a fairly nice office for the GayLine.
There is an image of 2112 Gottingen after we bought it, but before we painted it, here.
Someone says: FredBishop?, the first Manager of Rumours got fired in less than a month after opening because he was caught bringing in liquor given to him by a local brewery.
On October 1, 1986 the Technical University of Nova Scotia published a threatening parody of a Rumours ad with the text, "A Clubbing Place for Lesbians And Gays"
Among a few other things, it was the ShirtlessnessDebate at Rumours which wound down and killed, with a bit of a bang, Rumours and GaeGala in late 1994.
Managers
HistoryProjectTodoList: (1) these need dates, and (2) we need to complete this list.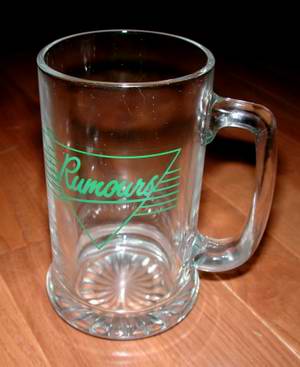 Rumours Club Mug. Logo by ArthurCarter.
On September 22, 1985, Michel Tremblay's play _Hosanna_ was performed, directed by GregDunham? and featuring EugeneSauve? and DavidBennett?. The poster is scanned here.
Stories
In 1991, My partner and I went to Rumours for the Hallowe'en bash, and it was a great time with all our friends. We picked up this handsome, tasty french guy, beard, very furry chest, hunky build, and dragged him home. At some point during the evening (um- morning, really) he engaged us in a game of "Guess why I'm barred from La Cave [the bar in Moncton] for the next three years." Fighting? no. Stealing? no. Selling drugs? no. We eventually gave up. Um. He'll be of age in three years.
Postscript in 2004: my partner chatted up a hot Moncton 28-yo on GayDotCom and invited him to Halifax for the weekend. We picked him up at the train station on Saturday afternoon and when we got back to our house, he said, "Hey - I've been here before." Bernard thought that he recognized us at the train station but was sure when he saw the house.
---
Remeber on Granville St the fusebox was always overheating and they had a big fan on it? It only had a 60 amp circuit, you could only run two of the dishwasher, light show, and sound system.
---
ShawnLamb writes: Being the Dj Vitro, trained by two of Rumours best DJs (PeterElie and ThomBray?) was one of the most grand times in my life. It was amazing what playing a song for someone could get you in that bar... [just dont ask where I was during those 10 minutes mixes on Saturdays...
---
I worked at Rumours in the late 80's. Possibly early 90's but I think I was only a DJ for the one decade. I only worked at Gottingen Street, although I had visited both the Granville Street location and the Turret. (ChrisShepherd, the DJ at the Turret, and I were acquaintances both in Halifax and in Toronto.)
When I worked at Rumours, Smitty was the main DJ. I worked the crappy nights and when she felt like taking a night off. I wasn't a real favourite to work women's night. (I think I have a couple tapes of my 'work', if that interests you.)
At one point we had to wear crappy 'Staff' sweatshirts. Sheila somebody was the manager. She used to get mad at me for drinking G&T while working (hard to hide tonic in a bar with a blacklight.) We had a disco night too. The few that turned up were suitably amused.
I didn't have/take much time to socialize when I was working, although I hung around with some of the staff & regulars from time to time. I met a long term girlfriend there. Many funny stories about that.
All in all it was a pretty good gig. As a third job (after Dal and teaching at Henson) the $10 per hour smoothed out non pay weeks.
It was kind of funny looking at the list of old bars. I'd been to many of them -- a surprising number for a straight man.
---
Bob O'Neill says: Rumours on Granville st. was still going strong in April 1986, because that was where and when I met my partner. Been together since.
---
In Jan 2004 someone writes: I guess I should have come out and moved to Hfx many years ago instead of waiting. Sound like the old times were the best of times.
---
I remember a time when TommyMiller was the star of some event, and the DJ played the wrong music for her to lipsync to, and she stormed out of the bar and slammed the door - and was disbarred as a result!
---
Your Rumours Story here......
BaraCuda writes: Rumours was the first & best gay bar I ever visted. I loved the layout of the building, one could tell it used to be an old movie theatre. It was very spacious and drew in quite a crowd on the weekends. I can remember chopping on free Popcorn, sipping on a drink and watching a video on the big screen by Divine a heavy set Drag Queen - "You think your a man but your only a boy" was the name of the song. I can remember thinking the DJ was probably playing it for me as I was just old enough to get into the bar, very much a twink among bears & wovles. I met so many friendly people at this bar, and had so many wonderful nights there dancing my ass off. The Dancefloor was huge, actually had two dancefloors a smaller one on the second level. Whatever happened to the all the gay people in this city? I remember that place being so packed, it was shoulder to shoulder in there sometimes, these days you go to NRG and it's just a handful of people or to refs to mingle with mostly str8 people. I doubt there will be another bar quite like Rumours, it was a unique spot, I also visted Millenium when that was opened in the same location, but with the renovations they made and no crowds ever it was very pale in comparison. I read here someone says the old times were the best of times, - buddie yer exactly right.
---
This page NeedsPicture - maybe a scan of the artist's conception for the decor of the outside, or a pic from WayvesMagazine.
I have a phot or two lying about my collection. WHen I get settled in my new apartment I'll scan what I have. I have a great shot of the interior before a new years party.
---
For a while there was a piano player in the upstairs bar. It was fun to see large groups of us there together singing. Met alot of great people up there too that weren't into the dancing downstairs.
---
ChristopherBowen? writes: The third night that Rumours (on Granville) was open I went in. I was 22, new in town to attend grad school, and it was my first time in a gay bar. I remember exactly what I was wearing: white drawstring rugy pants and an emerald green lacoste shirt (remember the alligator?), and a small gold cross choaker. I also remember the smoke...
I perched in the only spot I could see that was safe and out of the way -the wall directly outside the men's room. I stood there for all of 20 seconds before a beautiful man presented himself in front of me: black hair, moustache, TIGHT jeans, and silver cowboy boots -and an exciting glimpse of a hairy chest. We danced, we kissed, and for the next two years I spent every night with him. Our song was "Gloria". Well, it was everybody's song that year as the dance floor would suddenly get even more crushed when the keyboard cascade sounded. People would flood down the stairs from the upper room to boogie. But I only had eyes for Paul. Awwww...
My other memories of Rumours: pitchers of ice water on the bar, smoke in the upper room so thick that my eyes burned, popcorn, lineups to use the stall in the mens room, Gloria wielding a baseball bat at someone trying to force their way in, shirtless men (and all that ensued), flat coke, the taxi drivers across the street at the Tex-Park calling out anti-gay slurs, getting off the no.7 bus two stops past Blowers Street so that no one would guess where I might be headed, walking home at 1:30am (reeking of cigarette smoke) and stopping at the Garden View for a milkshake, trying to guess who on the dance floor was military, trying to determin who was a military "spy", meeting my best friend (who I had a crush on, but thought he was straight) on the dance floor, winning a Rumours mug for having the best moustache, wearing leather in public for the first time, ear plugs, sitting on the steps, and dancing for hours.
---
RegGiles writes: he Pass On Book: John Marr decided each shift should know what's going on from the last and instituted a Pass On Book; one time I wrote Belinda Tucker's name with the old style T that looks like an F if you look at it quick. She wrote : "My Name is Tucker not Fucker."
The other and last comment to which the book was dispatched was JoanneDrodge? or " Androgynous " our pet name for her wrote in the book " Guess what people; I have finally decided I am a Lesbian" and my response was " it just goes to prove you are what you eat!!"
---
This page is part of the HistoryProject.
Add any info you may have about this bar's drag scene/events at MzRumours.
This page really should be called RumoursClub? since that's what it was, and that's what it was called.
And the page probably should get broken into two parts, one for Gottingen St and one for Granville St.