Anne Fulton
Mid '90s. Photo by TumaYoung
July 25, 1951 — November 2, 2015
Born in Woodstock, NB, Anne was a real pioneer for Gay Liberation in Halifax, instrumental in organizing the women's group Atlantic Provinces Political Lesbians for Equality.
She was a very active member of GAE and known for a staunch left-wing philosophy.
Her spoof play, BlownWithTheWind was performed at the November, 1980 AtlanticConference for the PinkTriangleDay Cabaret at The Turret.
Anne earned a BA, BED, and MA in Counselling, and was a self-employed counsellor in the Halifax area for a number of years.
Anne passed away suddenly on November 2, 2015.
There's a great photo by TumaYoung of her and KevinBarlow?, here.
To get a sense of her impact in the LGBT community in Halifax, click on her name (above, in the title of the page) to see all of the pages in the Encyclopedia she's mentioned in.
This page NeedsBio
Media Coverage
February 11, 2016
---
Memories

By MaryAnnMancini
I remember many times that Anne and I were in the thick of it with activism activities, but I will share one here.. Part of GAE was Speaker's Bureau where members went to public venues to speak about the gay experience. Anne and I, along with two others, went to Dalhousie to speak to Phys Ed students, and the second part of the class had us broken into two groups with Anne and I together with one of them, all sitting on the floor of a tiny side room talking casually.
One student asked me if I was in a relationship, and I said, "Well, starting one I think..." and as I elaborated, Anne kept whispering, "I thought so, I thought so."
I finally turned to Anne a bit frustrated and said, "OK Anne, you and I can discuss the fine details later," and then we looked at each other and burst out laughing.
Well, this incident completely took all the tension from the room and the rest of the visit went amazingly well, with the students really opening up, and I truly believe we turned around some haters. So it went with Anne: she brought the comforting human touch to every activity and we are all in a better place because of that.
---

A Kind of Ghost Story
By Jeffrey Round
I knew Anne through my first boyfriend, WendellEnman? of Vernon River PEI, who was studying what would later be the genesis for Sexual Diversity Issues at Dalhousie U. Wendell admired Anne for her tenaciousness and integrity as a pioneer for the gay movement in Halifax. I had recently come out and been thrown into this environment of very progressive thinkers and was still finding my way around.
When I knew Anne she always had a car, always had a dog, and lived in a small, cramped apartment. She was seldom afraid to say what she felt. I thought she was just grand.
We all hung around the Turret, Halifax's community-based gay club. At the time, the club was run by Bill Mitchell and his partner Bill Gordon. To younger kids like me they seemed really old, like maybe 30, and therefore to be respected for their authority but not to be approached. Bill Mitchell was always outgoing and friendly, but somehow I felt Bill Gordon disliked me, as he always seemed to scowl at me when I came to the club. When I mentioned this to Anne one day, she laughed and said it wasn't true, but I didn't believe her.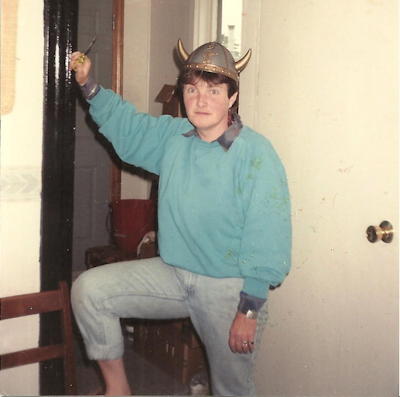 1993, photo by LisaComeau
One year just before Christmas, Anne told us that Bill Gordon had died during his sleep of an asthma attack. It was a bit of a shock to me, who had not yet experienced many deaths, as I would in the coming decades. I recall going to the Turret that evening and feeling Bill's presence around me. When I went home later, I lay on my bed thinking about Bill and how terrible it must be to die like that. Suddenly, the wall opposite my bed seemed to light up with a warm glow. I was convinced this was Bill Gordon's ghost. While I was comfortable with the notion of ghosts, I was not comfortable with being haunted by one who had disliked me.
"Get away from me. Leave me alone!" I cried in a panic.
The glow suddenly vanished and I was alone again. I immediately felt bad for being so uncharitable and insensitive to a ghost.
Not long afterwards, I told Anne about this apparition, though I didn't tell anyone else for fear of being thought strange (or at least stranger than I already was.) Anne listened quietly, but she didn't say much at the time.
The following year, as I was preparing to move from Halifax to Toronto, Anne took me out for a final get together. We had a fun evening, laughing and talking about all the people we knew, including Wendell, who had by then moved to Toronto.
We were sitting in her car, always messy, but one of her favourite places to have long talks. It was then she brought up my story about being haunted by Bill Gordon's ghost.
"Do you remember telling me that?" she asked.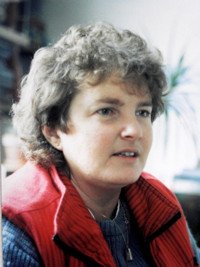 Mid '80s. Photo by AnitaMartinez
Of course I did. Who could forget it?
"I've thought a long time about whether to tell you this or not," she said, as I felt the goosebumps rising on my arms. "Did you know Bill was in love with you?"
"What?" I exclaimed. "I thought he hated me!"
She shook her head slowly as she gathered her thoughts. "That's why he always stared at you at the club."
"I had no idea," I told her truthfully.
She looked away for a moment as we sat in her car then turned to me. "Here's what I wanted to say: I was probably the last person to see Bill alive. We sat outside his house and talked for a long time in my car that night. Then he went inside and went to bed and never woke up. The very last thing we talked about that night was you."
I sat there in stunned silence for a while, then Anne drove me home. Two days later, I left Halifax for good. Sadly, it was also the last time I saw Anne.
Jeffrey Round is the Lambda Award-winning author of two mystery series, Dan Sharp and Bradford Fairfax, as well as other books, both literary and non.