Baracuda is the online nick for Blair Whiffen. I have used this nick online since the early 90s, first starting with IRC And the GayHalifax channel. In the mid 90s I created and maintained a site for the IRC room which featured online profiles and personal ads.
I am orginally from Sydney Nova Scotia, I relocated to Halifax in 1992 where I have been working in the Computer Industry. On a sad note my brother BernieWhiffen passed away this year (2005), he was very close to me, I will feel that loss for sometime to come. My former partner of 7 years JeffPoirier also passed away in over the summer.
I am currently Single and looking for new people to date and hang out with. I am 33, I live in Dartmouth, Slim Build, mostly smooth. I'm ultimately looking for a LTR but want to get into one for the right reasons, it takes time to really get to know someone so in the meantime I'm available for dating & fun encounters with the right guy. I find slim or athletic bodies are the hottest, someone versatile & younger would be nice but not neccessary. I'm not into game players, closeted folks or the unemployed. My interests include SWIMMING, technology, computers, fast cars, home improvement, bowling, pool, movies, Star trek, some reality tv shows, a few drinks here and there, going out dancing, & travelling when i can. I go dancing sometimes at ClubNrg & ReflectionsCabaret. I am music lover, I also enjoy going to live concerts, abd have seen Metallica, Madonna, Alice Cooper, Sarah McLaughlin?, Cher, and ACDC to name a few.
I can now be found chatting regularily on GayDotCom and use Micrsoft Messenger for Instant Messaging, I can be contacted at Sinenergy@hotmail.com Photo exchange before meeting is required. Hope to hear back! Email me.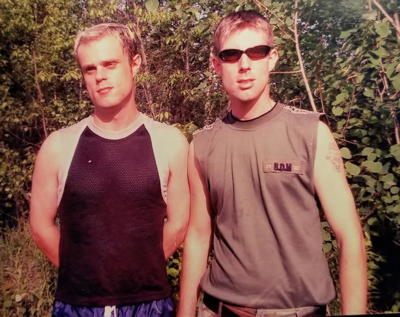 Jeff Poirier & Blair, Spectacle Lake, 2003
Check out my personal website at http://get-me.to/baracuda
I am totally looking forward to This Years CampItUp at Camp Carter Sept 23rd weekend, I missed this gathering the last couple of years and come hell or high water I am not missing it this year. Free Admission, Free Food, Dances Nightly, Nude Swimming, Nature Hikes, a Waterfalls, and gay people to drink & socialize with.. How can anyone pass it up?? I really hope to see many of you there!.
I welcome your Comments:
---
NightNurse writes: I'm glad that i have meet you, your one of a kind and looking forward to spending many years to come with you, your fun and kind and great to be around and thanks for allowing me to become part of your life you will always be part of me and your my Number one best friend.
---
Duane writes: I have only met you a handful of times, have seen you online many times, and get the sense that you are exactly what you seem - a genuine, down-to-earth really nice guy. You always have a kind word, are helpful to others, and seem always at the ready to lend an ear and give advice. There are so very few people like you Blair. If there were more people like you in the world, it would be a much better place. These words may seem hollow to some, but I am very good at reading people, and I would bet money that I hit the nail squarely on the head. I only wish that we could spend more time together in the real world /real time. As you know I love to dance and from what I see, we would make very good dance partners (your the only one who can keep up with this 41 year old dancing fool). I hope that all your wishes come true and that you find all the happiness that your truly deserve. When I say in GAYDOTCOM "be kind to one another", I know that you are!!!!!!!!!!!!!!
---
TroyWard writes: Blair my love, where do i begin? Words cannot express the way i feel for you...*gets out hallmark cards...lol* Youre so pretty, your cock is pretty, your personality is pretty, your cock is pretty too, your sense of humor is pretty, oh yeah your cock is pretty too. When do i get to see it? Blair u will always be a good friend to have, show me your cock please! :P Love ya
---
Starr69 ( Howard and Dennis) writes: We are now Living in Vancouver Bc , But Orig from Nova Scotia We meet Blair Many Many moons ago... When he first moved to Halifax.. We had many laughs as I remeber and Hung out often... He is A wonderful guy and has a HUGE heart... Will never forget the fun times we had... we was kinda like the Golden girls.. im not gonna say what one he was thoe :-) Love ya Starr69
---
Malik_Fredericton writes: I've met Baracuda two years ago in chat, we shared many secrets never thinking we'd meet, and guess what we met May of this year and a special friendship was born,. I've visited Baracuda in HRM and met alot of good people through him, his has a wonderful spirit and is a wonderful human being for caring and giving and a whole lot of fun
---
my names chris roooooney! alta,can 8/23/05 hmmmmmmmm baranaked, barcutie, baracuda!!! no mater what he calls himself he will ALWAYS be my Blair ....we have partied together ,laughed together, ive cried infront of him ...ive only seen him cry once ...but that was enough!...there arer no words really to say how i feel about the man who in a weird way I admire ...he may hate me for getting mooshy but what da fawk!..he has endured way more shit in his life than most of us will ever have to go thru ourselvess ...and still he stands tall ...when the rest of us would say "my life is over " Blair is not that ...he is not a drama queen like most of us r ..(like i would be)...he is professional smart funny and my life wld not be complete w/o the lil cunt god bless him truly ! I have had the honor to call him my best friend for a lil over 11 yrs now ..tho we may live thousands of miles away from each other he continues to be and will always be my BFF ...no matter how big the fight ..I dont care ..i love him forever ...now as fo music i like greenday , sum41 ,offspring the limp ...guess ive changed alot in that respect but meh! i used to luv madonna and dance shit but not so much now i just love to rok out man do sum bud ...and sambuka flammers.....mmmmmmm!!! i live in alberta ...red nek central but ill be bak soon ....maybe not in n.s but in the maritimes fo sho! and ya thats bout it folks ... cheers ...and if ure under 30 hot and have piercing and toos ....well thanx for cummin ...cheers!!!!
---
Someone Writes : Blair... you are the HOTTEST man around... I love your pix, and your body,,, hmmmmmmmmmmmm
---
Your Commments here: