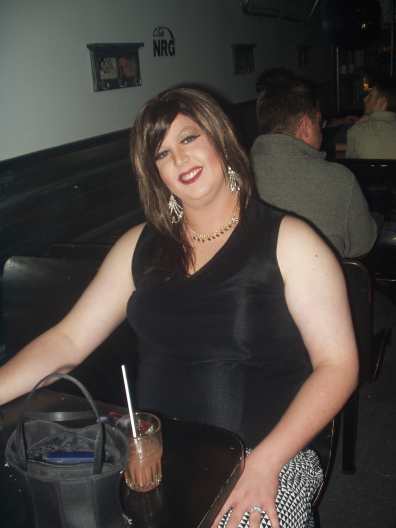 2004
Ivanna is a new queen on the scene - her drag mother is RougeFatale,Mz Sydney and her drag father is TyGer. She performs regularly at ClubNrg on Sundays and is a real sweetheart.
Her website is http://IvannaRamyah.tripod.com
Contestant for MzNrg 2004/2005 Contestant for QueenOfDiamonds 2005/2006 2nd Runner Up for MzNrg 2005/2006 1st Runner Up for QueenOfDiamonds 2006/2007
---
Full Name is: Ivanna Ramyah Fatale Ger N! Fruit Valsheau Mann Cockadoo Black Lott Divine Widescreen
---
RougeFatale says: i guess your mother should write to ya! i loves you babe, you have made me and your drag daddy proud.
NatasshaNlott writes: Hello dahling. Great music choices and as I've said before good stage presense and you're a sweetie. Loved your numbers last night!
there has and never been such a thing called a drag father to a drag queen...its only drag mother.......
RougeFatale writes: i dont know who you are, but , if the first person to help her into the world of drag was tyger, then guess what? thats a drag father. and why cant there be? the love and respect that Ivana has for myself and Tyger is fantastic. I, for one am glad to have Tyger as the father of my daughter. i love her with all my heart, and if you are going to leave comments of such, then have the balls to leave your name.
IvannaRamyah Writes: To the person who wrote such a thing let this be known that i am and will always be "Ivanna Ramyah Fatale Ger" i love both my drag parents with all my heart and Tyger (the drag King that named me and got me started in the world of drag) is my father and i am keeping it that way i am extreamly angry that some one would say that you can't have a drag father if your a drag queen because you know what i do and i love him dearly...aslo would like to mention that i'm lucky some people have either have a drag mother or drag fater and some don't have either...I have the Love of both and for that i am forever greatfull...Love you mom and dad -Ivanna
Lilly Patterson writes: hey ivanna ....love your outfit in that pic,,,i think you would make an incredable elvira hope to see you soon as i am soon to be one of your sisters
baby, u look mad and constipated in this pic. take it!! love your mom, rouge
KellieVanderbilt , Blowing up ballons at pride with ya had an awesome time lolz.
---
well, thank goddess you got rid of the constipation face love you
---
IvannaRamyah writes: Hi everyone just wanted to let everyone know that i have not quit doing drag...wanted to clear that up after I heard it last weekend...Just so you know i am just taking a little brake to get everything in order and will be doing shows again soon. Loves ya all -Ivanna
---
JuicyFruit writes: Hey gurl, well what can I say, you really this town. Well I be Ma or GrandMa?, you still my gurl! *MAUH*
---
Hello there everyone just wanted to drop a line stating that i'm finally getting everthing in order and that you will be seeing Ivanna Ramyah back on the stage very shortly. I do miss performing so much and nothing is gonna keep this gurl down. Lot's of Love -Vanni
DJ MATRIX PRESENTS.... IVANNA RAMYAH. Loves it.
Update from Ivanna: Hello everyone just wanted to drop a line saying that i was given the honor of the name lott last night...Loves ya mona and i will do your name proud -Vanni
the mom writes: put on your god daym dress and tuck your cock and get your draggity ass back on that stage... dont make me break my foot up in your ass... i just got these new heels... love mom
JuicyFruit writes: was grand to see you out and performing the other nite. you have so much energy in all your numbers.
IvannaRamyah writes: hey everone had to come on and do some cleaning up sme guy named Mr. poopstone or something like that, wrote a big long poem that i found dull and boring so i deleted it...Also i wanted to say I'm Sorry to Mz. Diva D she knows why i am saying this and that's all that matters. Loves ya bunches Diva -Vanni
DivadDivine writes: Vanni... sweetie you know its a good thing you are PRETTY sweetie otherwise you would be dangerous lol You wrote out your full name and left a particular name out ya twit! lmao DIVINE!!! HELLO