Rouge Fatale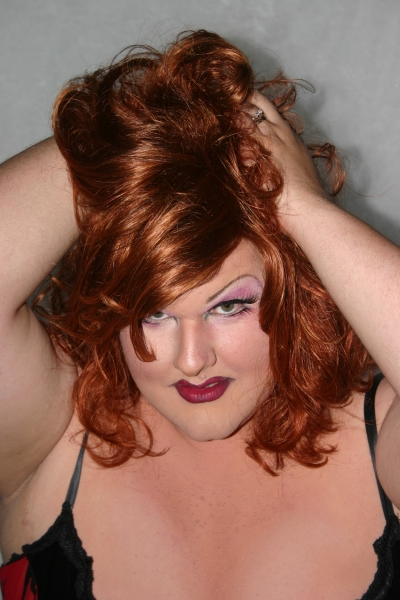 2006
Her Most Imperial Sovereign Highness, Imperial Crown Princess 6 and 8
The character Rouge Fatale is brought to life by JasonSpurrell.
July, 2005: RougeFatale recently moved from Cape Breton to Halifax and was MzSydney. She has come a long way quickly and has great fashion sense and good stage presense.
the new Matriarch to the prestigious "House of Diamonds"
drag queen of the year for International Drag queens and friends 2009
voted "the best drag performer" by the coast, 2008-2009
Miss gay halifax 2006 2007
miss reflections 2007 2008
QueenOfHearts 2005/2006 for ReflectionsCabaret
She won DragIdolAtlantic 2004!
2nd Runner Up for MzNrg 2004/2005.
Nova Scotia's Ambasador and Guardian to the Starr DeKnight Dynasty.
Princess Royale to her Empress and Emperor V
icp 6
empress 7 1/2 intown
icp 8
current host for the PinkVelvetBurlesque
DragQueen of the Month of April on InternationalDragQueensAndFriends, Canada.2007
Former host of WinHugeWithRouge?
Played the lead in the musical comedy SuzieGooPrivateSecretary
one of the leading roles in a trans gender version of "i love you, you're perfect, now change"
Won the following awards at the StudioXLeNoir? Community Achievement Awards:

best new DragQueen 2005
best comedy performance 2005 2006 2007 2008
best group performance (moulin huge)
entertainer of the year, female persona 2005, 2007
best lip sync 2007
big hair 2008 **won for best comedy performer at the High Heel Awards 2005,2006,2007

Won best drag queen, heavyweight division at LuLuLaRude's FiveMinutesOfFame awards
The loverly nic names of RougeFatale: Roo-gie( given by amanda benzova) HUGE! ( by my troy) Huge Fat-al-BURR-t (justin) big mama ( all the drag freakin kids) the N-perial Grund princess ( by her N-press, Natasha N)
---
AnitaMann writes: Rouge I have watched you from my confined cage known as coat check since you started coming to NRG to perform on a regular basis, you are an amazing performer and I have enjoyed almost all of your numbers especially No One Else on Earth by Wynonna, you are awesome and welcome to Halifax. :)
---
NatasshaNlott writes: I love when you do Cabaret! Great outfits girl and you are most festive. You've adapted to Halifax quickly and if you keep on the path you're on big things will come of it. Keep up the good work.
---
SharonBedz writes: I love my momma! Grand times at NRG and Reflections. Me, you, Natassha N, Erica and Diva D: laughing about DVD's boy in Saint John. Conferences in the bathroom and semi-circles, bitching about people.. you know who I'm talking about. And the prying bar. Love my momma to death. Happy to be a Fatale and the buffet. MMMM buffet.
---
Rougie my dahling...You are HOT! Most Sexual...and I know our daughter Crustatia Mia Boxx will be the prettiest little girl the world has ever known. TAAAAAAAAKE IIITTTTTTTTT!!!!!! love you lots...!!! --Lynnie
---
I am also a founding member of the FatBitchesSociety. with all my girls in the society, we will be having our first show soon! Keep an eye out!
love to all!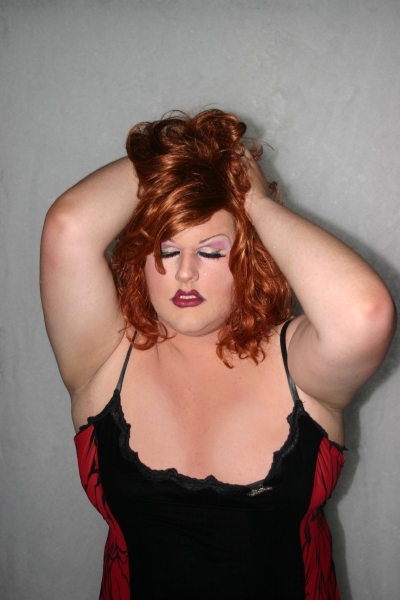 2006
---
HUGES! MARKS HERE aka Marsha for any of u low life queens who dont know where Marks comes from...anyway, where was i? Huge my very enormous cousin is absolutely STUNNING! cracks me the fuck up, and oh yes...we need to get annie to post yer *sleeping* boy pic on here for all to die laffin! anyway keep up the good work, keep me laffin, cause there arent many who do...Love ya cousin March!
---
Rouge, its been a long time since I seen a queen like you! All I have to say is watch out Halifax here comes the next STAR luv DynaMight
---
LillyPatterson writes: hey miss Rouge Fatale, thank you for inviting me to the fat bitches show on the 10th,,im sad to have missed you,,,had the best night of my life and i would love to someday join the fat bitches,,hope to see you soon, and thanks for helping me the night of my debut, (i bow to you!)
---
LillyPatterson writes: thank you for making me a fatale,,,cant wait for you to put me in face
---
**update from rouge*** i was given a very prestigious name. i was given the last name 69. thank you starr, i am almost speachless.... lol
Rouge Fatale Fruit Maxwell deCliff Leagues Cockadoo Cox N! Mayhem Schapeau mann valshow bedz roids lott 69 Starr Deknight
---
Rougie Dahling... One Word, FAB xoxox True to ones self is a virtue not found often... however adored when found! xoxoxoxoxox ~Madalynn
---
Rouge.... Its been a pleasure working with you, one of my favorite of all time... you are truely one of the few that can entertain, light up a room and capture an audience, miss you lots already, yours Sandra (SJ NFLD)
---
KrisLee writes: Rouge you are one of the most amazing Drag queens I have ever met, mind, spirit, and hot body. I am previllage to know you, and look foward to performing in your shows at CLUB NRG. Lots of ass. Kris Lee
---
Dawn Daveport writes: I think Rouge is a FABULOUS performer, us big girls need to stick together, work it girl!!!!!!!!
---
ok ok.. update.. well now. got me one of thE best names in the city.... i was honoured to get the last name of andrews yesterday. madalynn is one of my fav twisted bitches and im proud to carry her name Rouge Fatale Fruit Andrews Maxwell deCliff Leagues Cockadoo Cox N! Mayhem Schapeau mann valshow bedz roids lott 69 Starr Deknight
JULIA CHILD from Beyond the Grave: OOOOOOOOOOoooOoOo? Oh my mmm yes....DECIDENT performer..DOES ME ever SO Well on stage..mmm..yes...love her...i get to possess her body ever soften for shows..love ya mz fatale..mmyes...
Give her a pound of butta and some brandy! MMM Yes Decadent
_____________________________________________________________
Hey there hunnie.. want to thank you and your bf and roomies from the bottom of my heart for looking after Meshia for me.. .I'm soo excited to see her... miss you guys Love Always Starr69
---
GINA GIBB Here You were awsome at the Queen Of Hearts girl..I am a Former Queen Of Hearts Of 2002-2003..Size does NOT MATTER..looking forward to be on stage with you sometime..YOU GO GIRL
---
Youre getting too big for your stillettos girl...you better watch your step or youre gonna fall right on your face.
---
Rougefatale writes: I'm sorry that you feel that way. i think my stilletos fit just fine. i have a show, yes, i have a crown yes... so do many other queens in this city. and if you are going to warn me about falling... put your name to it. I love performing, i love being out there. i have fun... i enjoy it. I don't need or want enemies. i havent done anything to anyone in this community, if i have then tell me.... let me know. and i will apologize in full. i have made my peace with the few queens that did have a problem with me. so thats what i have to say... mhm...
You look good in your Stilletos better then some drag Queens, you go girl
---
I agree Rouge If you don't have the guts to type your name then keep your mouth shut. DYNA
---
Ben Dover has asked me to take his name as his daughter in the Dover Clan. i am very greatful to accept this name and will make ma pa prouid...
NatasshaNlott writes: I recall a certain coupon from a certain in-town show that promised me a glazed ham. Well where is it? Come on, I know you're hiding it in those rolls somewhere. lol. You are most festive girl. You need do to a Julia Child number with little midgets dressed as dinner ingredients!
---
Rouge Fatale,,,,you have been my pride and joy in the last year,,you annie, and kent plus others,,have made me feel so accepted and loved,,,,youve dont more for me than the first time i put on heels...i luv you guys ..blessed be the mom........(burp)...blessed be the fast food!
---
Apr 15, 2005: LANDA! LANDA LAKES....this is Marge...bernadine was outtonight...yap..love ya see ya soon-Ang
---
Well... gots a new name... but its a biggin' y'all... i am now a daughter of Dixie Landers! Rouge Fatale Dover Fruit Andrews Maxwell deCliff Leagues Cockadoo Cox N! Mayhem Schapeau mann valshow bedz roids lott 69 Landers Starr Deknight
LadySchapeau writes: get ready for some pizza this sat night :) AnnieCockadoo writes: IM going too !!..i love pizza!
Dawn davenport writes: you are an amazing Queen, dont let anyone tell you different.Fuck all of them who bring you down.You are a star.
rougefatale: hi poodles. got grr! yaaap... suzy goo was phenominal! we had a blast. i just want to thank everyone that was so suportive of me over the last 6 weeks. esspecially kent, and my roomated... lol. who i think want to never hear me say suzy goo again
July 2005: DanielMacKay writes: fabulous portrayal of the lead in SuzieGooPrivateSecretary! Congratulations on awesome acting in a substantial comedic role, and thanks for being part of the effort to bring all queer theatre to Halifax!
Rouge Darling, IF the awards from The Studio X Lenoir Community Achievement Awards do not let the city know what a talent you are; I do not know what will!! You are taking this town by storm girl!! Been a pleasure to perform with you at the various events but nothing beats "Win Huge With Rouge" Wednesdays. Great nights and great laughs always. Glad you are a friend!! Hugs and Kisses FionaJefferies
NatasshaNlott writes: "If you don't give up your obsession with deep fried foods, every one of your children is going to end up as big as a house". LOL. I don't know about you girl, but I'm dreaming of a purple Christmas. That's right. Now go, just go. Out. LOL.
LadySchapeau writes: What to say, what to say. Hummmmm.... boogah! I totally loved your performance at 5 Minutes, you should have won, there's just no justice in this world! Gotta go, have fun, and just remember one thing.... we'll always have East Side Mario's :) Love you too much - Lady Schapeau Diamond. (my drag initials spell a drug, LSD.... funny)
Name update: Rouge Fatale Dover Landers Fruit Andrews Maxwell deCliff Leagues Cockadoo Cox N! Mayhem Schapeau mann valshow bedz soul noir roids lott 69 Grr diamonds Starr Deknight
Lady Schapeau writes: congratulations to you and Kent on your union :) love you both *cover's eye & kicks over a garbage bucket*
Dawn Davenport Writes: I am so happy for you and kent of combining your love for one another in a union of Love.Its beautiful to have two people in love, you and Kent i wish nothng but furture happiness forever. ***************************************************************** 1-800-Jenny-Craig ... for the big girls RougeFatale: child.. please! jenny craig told me that she dont have the strength. so she gave me wendys coupons. :) kitten, believe me, my weight is part of me. alot of me. and i am still healthy, have a good heart rate and good cholesterol levels. and if someone is gonna make fun a my weight... i probably already made the joke. and 2006 is the year a the big girl... so go eat something and be proud a your ass, whether it is boney, fat, or non existent.
=
HaHA? you tell them my XL sister.
AmberWayves writes: Seriously people. The fat jokes have been done for sometime now. Although Rouge is not as thin as some other people, doesn't mean she isn't a great person. How about looking in to her heart, maybe you'll find something special. Gurl, I had fun with you, and I hope you had a blast. I wish you all the best in 2006. See you January 22, 2006. Take Care :)
LadySchapeau writes: YAAAAAAAAAAAAAAAAAAAAAAAAAAAAAAAAAAAAAAAAAAAAAAP i cant wait for the Jerry Springer Show!!! Remember to knock something over for me ok?! Bee eye
JuicyFruit: Jerry Springer...hmmm sounds like a show I cant miss - as a boi that is
DivadDivine writes: You Go Rouge sweetie...callin Jenny and she gave ya Wendy's coupons...riot!! Now of course I have to call Jenny Craig cause that bitch made a deal with A&W to hand out coupons to those she just can't help! I heard she gave a whole box of them to Kirsty Alley lmao
LadySchapeau writes: just surfing through and read this Devine comment....HAHAHAHAHAHAHAH , loves it and loves you too Diva - Lady E. (and loves you too Rougie-Poo)
DivadDivine Writes: HI ROUGE!!! I love the messages you have left on my cell phone I swear to god they are a riot!! I got the first one when I was at work on a break, and pissed myself laughin...Now if only I could figure out a way to save those permanently hehe Love you my friend and miss ya lots!
hey all! Rouge here, just adding a few dates and what not to the page. i just wanna let everyone know that i am still goin strong here in the city. i love halifax and nova scotia. i will always be true to this wonderful town and i am so glad to be part of the colourful history of the LGBT community. go halifax! you rock!