Pam Leeming
August 31, 1958 - June 14, 2022
Pam Leeming, GALA board member.
Pam passed away at the Colchester East Hants Health Centre, Truro. No visitation or service by request.
There was a memorial service for her on August 28, 2022 at VeithHouse with a couple dozen friends and co-workers, featuring TheThreeHelens.
Involvement with GALA: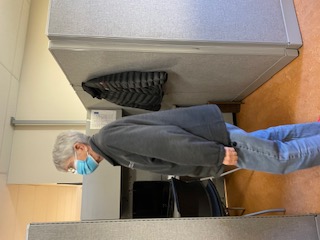 Camile Hepter
So much I could write but I keep coming back to this thought to celebrate Pam's time here: she was a kind soul, also referred to as a "crusty marshmallow", who tried to leave people and animals in a better place than where she found them. Her life's work here is now done, may she too be in a better place. Cheers my friend! -- Co-worker and friend
Jane Harnish
I became friends with Pam when we became co-workers. I wasn't there a week when she wanted to know "my story, and where the hell did you come from."
We enjoyed some great laughs, some sad stories, some life experiences and our love of dogs. But when Pam found out that I have volunteered at ElderDog for many years, and that my dog had come to me through that organization, well....that was it, we were friends.
Always ready with the sarcasm I became to depend on, the quick wit that I looked forward to, the advice she wanted to share, whether I wanted it or not, she readily gave it.
Pam did most things without wanting recognition or thanks. But when treats ended up on my desk, I knew where they came from because they weren't for me, they were for my dog. I asked her who put them there, and she responded with, "Just shut up and give them to Abby (dog)". I knew.
When her illness started to become more apparent, we shared some conversations I will hold forever in my heart. I was very fortunate to spend time with her.
I told Pam, I was going to tell people how kind she was and I usually called her a prickly teddy bear. She swore at me, telling me she was going to haunt me if I said that shit. lol. So haunt away Pam, it is my pleasure to still have you in my life.....and as usual on your terms in your way.
Rest in Paradise, my friend. Jane Harnish
Jonna Francis
I worked with Pam for nine years; she being an income assistance case worker and me being a family support worker in child protection. We shared many families together and I could be a pain in her ass! I advocated hard for the families I worked with and Pam didn't hold back on her thoughts and opinions about children and parenting 😉. When I would ask for additional funding for daycare, Pam would tell me to "have the children play in the street; they don't need daycare. I didn't go to daycare and I turned out fine." In her sarcastic tone and delivery, I at first was unsure how to take this response. I then got to know Pam and realized she made these comments to get a rise out of me!! It worked 😊. We shared many laughs when talking about parenting and she referred to my child as "that thing". My dogs on the other hand, could do no wrong. She provided great advice when I became a dog owner and always checked in on them if I mentioned they were not feeling well or struggling with a behavioural issue. She loved her dog Kale and I see him now and again at the dog park with his new owner.
I was part of a book club with Pam. I rarely read the books but went to the meetings to hear Pam's take on the story and listen to her give hell to those of us who were not participating as we should! LOL.
The wit and sarcasm Pam had was not always understood by everyone however, under that presentation, was a truly caring and compassionate person. I was sick suddenly six years ago, and Pam was genuinely concerned about my health. She listened to me talk about the experience I had, she checked in and she offered support. She also offered financial assistance to my family when a business we had was not successful. We did not need help financially at that time this but knowing Pam was willing to help if necessary was comforting and allowed us to feel supported.
Pam was a wonderful person and we will continue to miss her presence in the office. I am thankful I was fortunate to get to know her over these past nine years.
Jonna Francis Friend & Coworker
Kelly Lemay
Long time friend and co-worker [at Dept. of Community Services], my Poomala! Stubborn, politically correct, intelligent, passionate individual leaving behind more people than she can imagine. I will miss: her surprise visits that scared me half to death due to her stealthy steps; her handing me the phone and just saying, "Fix this;" her abrupt finishes like, "OK, talk later!" or her texts... "You there?"
Miss you.