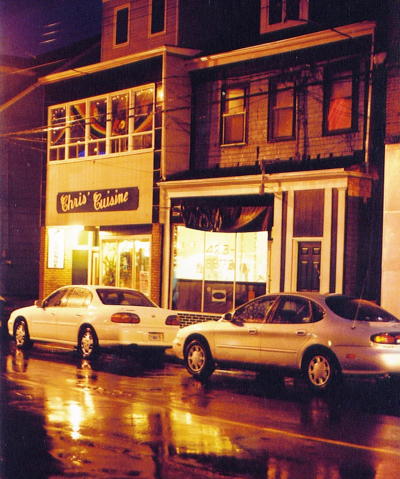 The Rainbow Room
Upstairs at 2104 Gottingen St from November, 1997 until about August, 1998, when it was changed to the EagleHalifax.
October 15, 1997: HALIFAX -- Halifax's newest gay and lesbian bar will celebrate Coming Out Month by offering the community an alternative hangout.
Chris Panagos, the owner of Chris' Cuisine at 2104 Gottingen St, says, "This will be place to relax for people who want a place to chat against background music, play pool, watch the bigscreen TV, and play chess, backgammon, and other board games. We have a beautiful atmosphere and we're very friendly!" The Rainbow Room will officially open on Thursday evening, November 16, 1997, upstairs from Chris' Cuisine at 2104 Gottingen St. It's next to WormwoodsDogAndMonkeyCinema, the former location of the G/L/B community-owned bar, Rumours.
The bar was built less than a year ago. On Thursday, it'll officially re-open as a Gay and Lesbian Bar, with a new name and rainbow theme decor. Management and staff will be welcoming the community after 7:30pm.
---
CapnDan writes: this place was everything that a gay bar opened by a little old Greek str8 man should be. It was beautifully clean, extremely well lit, the tile floors shone like your granny's kitchen, and there was a cheery handpainted rainbow on the Gottingen St window. I remember on opening night the bartenders (straight, still working there from when it was a very ill-attended straight bar for the previous year) were frantic - there were more people in the bar that night, than they had seen altogether in the previous month.
They had great Sunday brunches that were reasonably priced and good New Years Eve meals!!
---
Email your Rainbow Room story to DanielMacKay!
This page is part of the HistoryProject.