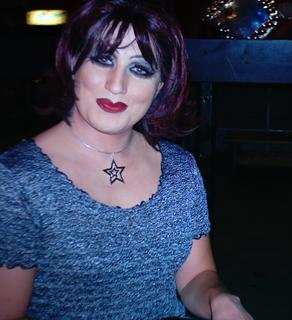 2004
Carnie Val Sheau is a very talented, energetic queen that you see from time to time at ClubNrg. She's a drag daughter to the one and only QueenOfDiamonds III MonaLott. Carnie's is the alter ego of Imperial Crown Prince V LeeBent. Her famous number that she used to win FiveMinutesOfFame with was her version of Celine Dion's "You and I", as an airline stewardess with drinks and peanuts.
AnitaMann writes: Carni, as a drag queen you amaze me. As a partner you amaze me as well. We will always have our ups and downs but keep in mind I love you.
AmandaBenzova writes: Well.. im glad at least one of yer top 2 wives :). This shall prove to be a great year! Im excited that Gary picked someone as talented, and thankfully cute as you too stand with me this year! lol jk. Xo Amanda
JosephPenny writes: You rock girl!!!. As times goes on I can see you becoming someone very big in this city. You are simply AMAZING!!!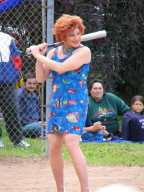 Halifax Pride Baseball 2004
NatasshaNlott writes: Carnie, in or out of drag you are someone that I adore and will always care about. You're a natural.
DivadDivine writes: Carni, I enjoy watching you perform the energy you put into your numbers is amazing. Much Love sweetie!
RougeFatale writes: My dove, you were the first queen here in the city to make me feel welcome. and i am truely grateful fo that. i will always remember you no matter how far away i am from this city. you truely are a treasure. ps... old spice babe!
MissyFufu writes: This girl ROCKS!! Carni is the type of person who would give her shirt right off her back. Love you lots Sis!!
SandyMacDonald writes: LOVE and MISS you to death Carni!! your fabulous and i think of yah lots.... Cant wait to come home and see you again "high above the mountains far across the sea" GOD LOVE YAH my little Trout, island life just isnt the same with out you!