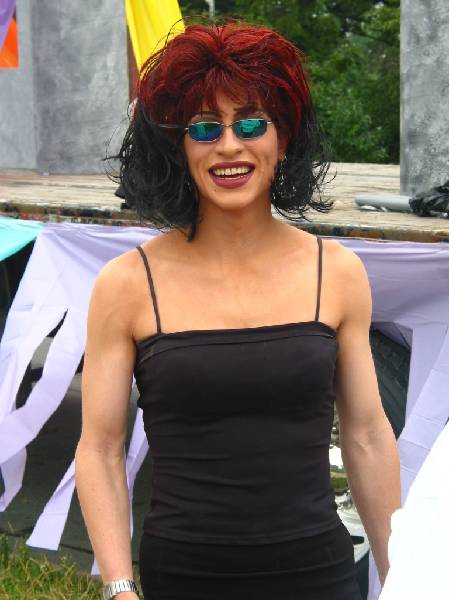 1st Runner Up in the 2003/2004 MzNrg Pageant and 2003/2004 MzBigWig Pageant. Missy works at Club NRG, and is known for performing country numbers - Lorrie Morgan and Faith Hill especially.
Missy is also HMISG Imperial Grand Duchess to Reign V of IsCans and was crowned MzBigWig 2005/2006 on August 28, 2005 doing Faith Hill's Mississippi Girl.
MadalynnAndrews says: One of the best performers and a good person that I have ever had the pleasure of sharing the stage with xoxo
AnitaMann writes: Fufu I love ya to death, you are one of the few people I know who are genuine in their own way and it's great! Even though my Drag Mommy now is MonaLott, I still consider you a sister.
Is missy fufu moving away or just giving up drag, i'm wondering this because of the farewell show at nrg for her. Either way good bye gurl you was a grand queen, a little bitchy at times but thats what makes ya grand.
---
Dec 23rd, 2005: SHE'S MOVING AWAY
---
"Manager of NRG... frm Janitor to Manager in one night!" The "hoover" imitation must have impressed someone :)
---
Actually if anyone of you ever fucking noticed she went to manager after keeping Vortex alive after the Keith Fudge bullshit Who Cares!
JuicyFruit writes: hope the best for you in all your future endeavours especially the big move to out west.
DivadDivine writes: Well girl we got to know each other pretty well the last little while you lived here, and working with you was to say the least a great experience...I miss seeing you every friday and sat night and miss those "Girl we have to put on a show on Sunday wanna co host with me?" moments lmao _________________________________________________________________ Welcome to the west Coast hun