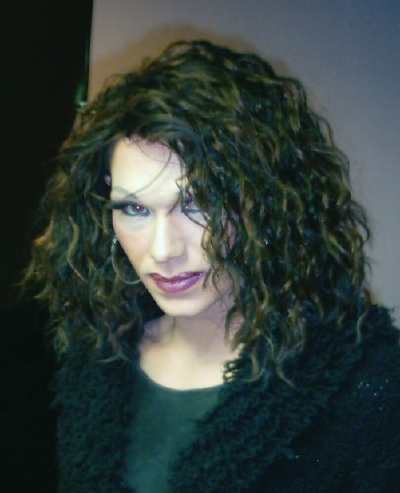 2004
Her Imperial Serene Highness, Queen of Diamonds III Mona Lott and a daughter of the Imperial House of Diamonds.
She received the title Princess Royale for placing second in the first ever King & Queen of Diamonds Pageant, as well as placing second in this years third annual Queen and King of Diamonds pagaent, but was elevated April 11th, 2004. She is well deserving of this title and has been one of the hardest working queens in this city as well as a God with make up. She is an excellent entertainer and knows every Celine Dion song ever written. She is also MzBigWig 2002. Look out DitaParlow - there's another Celine in town. Mona/John Paul works at Club NRG.
HEY GIRl i want you to do where does my heart beat now before i do, ive never done ciline but have always wanted to,,, your hard to warm up to,,but always someone i will admire from afar
AnitaMann writes: Mona I love ya to death. No matter how many times you slap me for being stupid, I will always love ya because I know you do it because you care. You are a wonderful drag mother and one of the best queens there is. I can't wait to see you step up as Queen of Diamonds III, you deserve it. Love ya Momma
NatasshaNlott writes: When I started doing drag, I wasn't taught the basics. I was a mess! You were the first person to show a sincere interest in helping me out and that I COULD accept help and still be independent at the same time and for that I am thankful that I am the queen I have become. You are beautiful, well deserving of the titles you have EARNED, and a phenomenal performer. I'm proud to be A-Lott-a-Natassha-N. lol.
RougeFatale writes: Mona. i love you hun. i love the performances you put on and the fact that you do broadway too makes me very happy. you truely are a an asset to the halifax scene.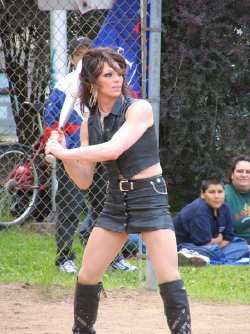 Halifax Pride 2004 Baseball
LillyPatterson writes: Mona,,you have been an insparation to me; with shayda, and nellie,,,you were there for me in the begining and i would love to see you someday perform a new day by celine,,,,and we all know why!
MissyFufu writes: GRRRRRLLL!!! All the fun times we have had together will never be forgotten. You always seem to pull a show stopping number but what else would I expect from you. Oh and don't forget I still have that pic! hehehe Love you lots girl and happy to be able to call you one of my sisters
DivadDivine writes: Mona, you are an amazing performer and human being your support and joking around with me is always appreciated. You always kick ass on stage sweetie NEVER EVER change.
RougeFatale writes: mooooooooooo ]
LillyPatterson writes: your hot out of drag,,,but when your in drag the red carpet is an insult!!!!!
IvannaRamyah writes: Mona, Gurl loves ya to death. You make working at NRG Hilarious. It's good to know when my cheesecakes are orgasmic...LOL Never Change hun. -Vanni (MINE)LOL
RougeFatale writes: what do you mean i already went through my tab? i paid it 2 hours ago! love you babe
LillyPatterson writes: THAT KISS WAS FOR REAL,,,,THE WORD HONOR DOESNT DESCRIBE HOW HAPPY I AM,,,,,,,,,,,,,,,,,,,,,,THANK YOU! I LOVE YOU' YOU SEXY BITCH!
StarrSixtyNine writes: Get Girl.. Miss your funny sence of houmour You always made me Laugh.... Keep up the great work... much love
ShaunaStarr writes: Mona, it's Mamma: Out of all my gurls, you are my favorite, you always have and you always will be. As a queen, you shine and as a person you are a true gem. It didn't matter where you were or what you were doing or who you were doing it with, when you saw me it was always" HI MAMMA, I love you" man the people must have been scared at Scotia Square a few times or more. I will never forget the send off you gave me when I left for Calgary, I still cannot listen to the song and tears start to form, Halifax homecommings are always emotional because I know that I get to see you and it makes me happy. I love you always my special gurl Mamma Shauna
Moen writes - thank you to everyone for the inspiring words of wisdom and sincere thoughts.
DivadDivine writes: Moen I Miss our chats!!!! After a long week of working, there was nothing more fun then walking into the bar and sitting down and chatting with you and have a good laugh or two! I can't wait to see you again, its been too long...Get well and come home soon I know I am not the only one who misses ya!! Love ya Gurlie..HUGS