Lesbian & Gay Rights Nova Scotia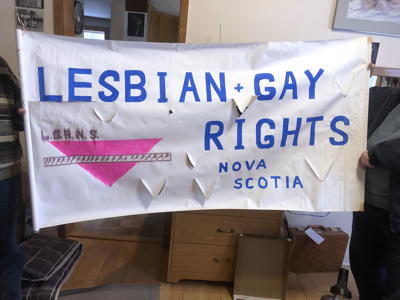 Human rights organization in the 1989-1990.
The LGRNS lobby was the first time a queer community successfully lobbied a Conservative government to change its human rights act in Canada. It did this through an organized, coordinated and professional lobbying effort over a period of roughly two years. It also marked a transition for the Halifax queer community from the grassroots, working-class organizations that had sustained it through the 1970s and 1980s, to a professional-class organization composted of lawyers, social workers, university professors and journalists. The lobby was textbook perfect and was used as a case study for several years at DalhousieUniversity.
DebTrask writes: here is a partial list from the LGRNS days [1987-1990 period]: in the minutes we listed ourselves by first name only, so I will give you those who are 'out' - there's many more, but I can't be sure who they are from their first names: AnneBishop, EdgarFriedenberg† DebTrask, MaureenShebib, ArthurJones?, DarrellMartin?, ElaineJacobson?, BrendaRichard?, JanMorrow?, RobinMetcalfe, KevinCrombie, RobertAllan, JenniferLeith? [now lives in England], DebbieMathers?, TomParsons?
There is a massive LGRNS archives in the RainbowSeniorsArchive.
Events
April 12, 1989

Demonstration

June 12, 1989

Full page "The Buchanan Government Doesn't Believe In Human Rights for Everyone" ChronicleHerald ad

September, 1989

SimonNkoli visit - September 20, 1989 - 22, public talk at Rumours September 21, 1989

May 30, 1990

"Jeopardy" game. In the picture we see RobertAllan, DebbieMathers?, a "closet case. The host is possibly BrendaBarnes. There are newspaper clippings and video in the AnneBishop fonds
This page is part of the HistoryProject and NeedsContent.