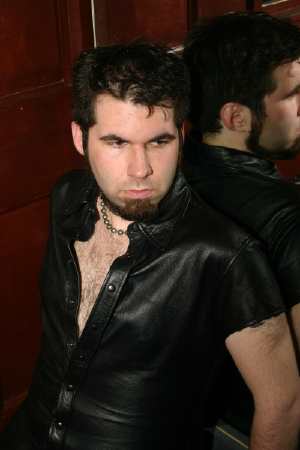 at the FetishBall 2005
Ryan is sort of your regular guy, if you consider your regular guy to have nipple tattoos, whips on his wall, and a book case full of philosophy and theology. He is involved with the MacLeather Society, and with the help of DavidCosens, co-produced the 2005 MAC Leather Competition and the MsAtlanticCanadaLeather contest. He was also involved in helping to organize Halifax's Fetish Ball at Club VorTex in April, 2004.
With the help of director KatBiondi, and DanielleTrottier?, Ryan finished his first big project: The LaramieProject and the creation of Halifax's first Queer-Straight Theater Companies - MenialSinsTheaterCompany. The first show took place at Club VorTex on Thursday, October 14, 2004. The idea behind the Company is to do Community Theatre by doing both Community into the Theatre (in the case of their first production to take it directly into the bar) and the Theater into the Community (in September they Walked in the AidsWalk in Angel Costumes from the performance of the LaramieProject).
Bio
B. ca. 1981
1999 came to Halifax to attend the University of King's College
Involved with the leather scene since 2002
2004: co-founds MenialSinsTheaterCompany
2004: produces The LaramieProject
2004: co-producer of MAC Leather Contest Weekend 6
2005: co-producer of the FetishBall
2005: produces SuzieGoodPrivateSecretary?
2005: participates in the Showcase documentary series Kink 5
2006 leaves Halifax for Montreal
SharonBedz writes:
dearest demon to my heart 
i miss you and the girl out and about 
thank you for the push and support in my want to 
be a goth and bondage queen
smoochies from SharoN! Bedz

---
I would like to say that Ryan is a very sexy guy and has a very warm heart... It was always a treat to see him out and about
Hugs hun,
Love Starr69