The Laramie Project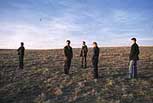 On October 6, 1998, 21 year old Matthew Shepard was lured from a bar in Laramie, Wyoming. His abductors, two men around his own age, from his own town, drove him to the outskirts of the city and proceeded to rob him, beat him with a pistol, and torture him. Finally, they left him tied to a fence post to die because he was gay. He was found unconcious late the next day by a young man riding by on his bicycle. Matthew was brought into a hospital in Fort Collins, Colorado where he remained in a coma until he died on Monday, October 12th, just 6 days after the assult. The event picked up national attention, and all too soon, the small town of Laramie was on the world stage.
Hate put Laramie on the map, but that was not image of Laramie that Moisés Kaufman wanted people to see. There was more at hand, a much more intimate experience that the news cameras were not sharing. With members of New York's Tectonic Theater Project, he took his theatre company to Laramie to document the real effect of the event.
Over the course of a year, they made six trips to Laramie and recorded over two hundred interviews with the townspeople. These interviews were brought back to New York where they were transformed into the troupe's experimental form of theater called tectonic theater. The troupe began by converting the interviews they had gathered into monologues which would come together by their arrangement and create peaks of intensity, or move apart from each other to create gullies of emotion.
Just as the mountains and valleys of emotion would be allow to stand side by side in contrast, they could carry on with this theme and allow the two sides of Laramie could be shown: both the hate, and the compassion.
Productions:
October, 2004 production at ClubVortex (below)
February, 2007 at King's (below)
November, 2008 at the Dunn Theatre - link here
Menial Sins Theatre Company, October 2004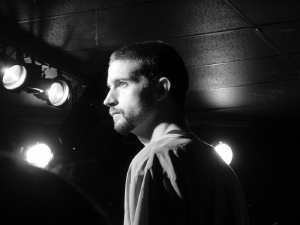 In October, 2004, 6 years after Matthew's death, MenialSinsTheaterCompany made its debut performance, with The Laramie Project at ClubVortex. Formed by Producer RyanAuld, Director KatBiondi, and Stage Manager and Assistant Producer DanielleTrottier?, Menial Sins' Theatre Company offers Halifax a different form of theatre, filling a niche in the city of Halifax by creating a form of queer friendly theatre appealing to both the gay and straight audience. To accomplish this, Menial Sins' made a concentrated effort to offer shows which deal with issues that affect both the gay and straight community. The play featured actors from both the straight and gay community: KellyMcNeil?, AnnieValentina?, AnneThériault?, GarrettBarker?, BenDover (CaseyPublicover?), LeeAnnePoole, EddisonSkinner, and AdamRairdon?. Coming together as a group, Menial Sins' decided not to be your standard theater company. Rather, with the idea of taking the theatre into the community, they also want to take the community into the theatre: for this fall, it means participation in local community events such as the AIDS Walk.
This event would not be possible without the support of its sponsors: ClubVortex, VenusEnvy, WayvesMagazine, and MelonAdvertisingAndDesign.
---
Kings Theatre Society, February 2007
On February 2, 2007, the Kings Theatre Society produced The Laramie Project.
| | |
| --- | --- |
| Directors | Kaile Glick & Nisha Platzer |
| Producer | Martin Curran |
| Stage manager | Cliodna Cussen |
| Tech | Ryan Morris |
| Additional help | Heather Blom |
| Cast | Maija Buckley-Pearson, Will Greenblatt, Ira Henderson, Ella Bedard, Erin Murray, Erin Raine, Zach Russell, Ari-Paul Saunders |
The single-show production was a benefit for the Matthew Shepard Foundation.
DanielMacKay saw the play in the Red / KTS Room of the Kings New Academic Building, and writes:
Absolutely brilliant! I was expecting the student production to be a little rough around the edges, but the performances were magnificent; there were a couple of mangled lines -- normal for the first night of even a professional production. On the other hand, the things I expected to come up a little short - the timing and pace and diabollically difficult deployment of character -- were perfect.
The most difficult set of roles in the play are for the guy who plays the town limo driver, bartender, Ron Phelps, and several other characters. Actor [insert Big Red's name] delivered the ten different personalities with power and precision. Each of the characters has a different presence, stance, accent, and speaking cadence, and he was right on the mark for each, even when playing a soft-spoken farmer back-to-back with a raving Phelps. And quite often, one person's speaking and the other actors have to be invisible on stage to let the audience focus on him or her, and when he wasn't "on" he was like a statue. And he's a big redhead and devastatingly handsome :-)
There are two or three places in the play where the actor plays both the interviewer, an actor from an experimental theatre in NYC, and the interviewee, a redneck from the US midwest, face-to-face. Both characters face the audience and the actor switches personality between each question and answer -- if it was film, there would be one camera behind each person, and it would be edited back and forth. It's a tough bit o' work, and [insert Kings actress' name here] carries it off perfectly.