Fetish Ball I -- April 24th 2004
Design by Wolf Fillmore??
ChrisAucoin, Marketing and Promotions Manager, Mr. Atlantic Canada Leather Society writes: TightRope and the MacLeather Society would like to thank all the volunteers, attendees, and sponsors of this spring's The Fetish Ball. We had a great venue, fetish group info tables and sponsor booths which were well received, an awesome DJ, a fabulous hostess, and at night's end we couldn't get people to leave! To those who were asking - yes we will definitely have this event again.
When we set out to take on this project we had two goals. First we wanted to do some community building; both within the gay / bi men's fetish communities which are our official constituency, but also to build bridges to women's communities, to the straight fetish scene, trans scene, and the larger G/L/B/T community generally. I think the great cross section of those in attendance enjoyably partying with each other that night attests to the event being successful in achieving this goal. Our secondary goal was to do some fundraising to offset the financial hit the MacLeather Society took from Hurricane Juan. (Our main annual event - the MacLeather contest - took place that same week and additional costs as well as reduced attendance resulted.) On that point we are pleased with the results as well.
We would like to thank a few key people who graciously and fabulously made the event work. In particular our guest DJ ArenSilver?, Mistress of Ceremonies for the Midnight Fetish Revue, DitaParlow, and our volunteers who remade Club VorTex into a fetish boudoir for the night!. We would also like to thank our Midnight Revue guest judges: ShelleyTaylor?, MacLeather 2004 RandallPerry, StuartRae?, and StarrSixtyNine.
Last but by no means least our wonderful sponsors; it literally would not have been possible to pull off this event without your generous support.
To all those who came out for the party thanks as well - and we'll see you all (and hopefully many more) at Fetish Ball 2!
Fetish Ball II, 2005
Fetish Ball III, 2006
April 22, 2006
Need people and pictures here.
---
Fetish Ball IV, 2007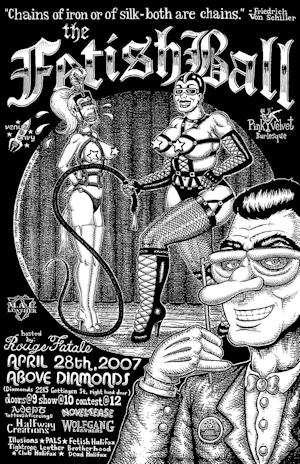 Poster by Kyle Bridgett. Kyle writes: This is one of my first posters; I was really interested in underground cartoonists and psychedelic posters at the time. I was one of the youngest members of PALS (People with Alternative Life Styles) which was the Nova Scotia fetish group at the time. It wasn't easy to get in: I had to send a message to a Yahoo group and then meet up with a couple of middle-aged kinksters at a pub, before attending a larger "munch" with all the members. I sort of flirted my way into doing the Fet Ball poster, and the organizers clearly weren't prepared for the limitations of hand-drawn art -- they kept adding sponsors. The number of sponsors went from 4 to 14 and I actually had to extend the page to accommodate the extra logos (which is why I added the quote to the top.) They also hemmed and hawed about the nipples. I censored them with stars but people kept asking for uncensored versions, which they printed in multiple colours as well as on magnets and stickers which they sold at the event. They never did another poster like this: all the others were photos with digital text, so I guess the merchandising didn't offset the overhead.
I donated the original framed art to the local play space, the Society Of Bastet. Last time I checked it is was still hanging there.
Click on the image for a larger version.
---
This page NeedsContent:
What happened at this event?
Who were the producers? (people and organizations)
What was the purpose?
Also NeedsPicture