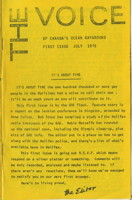 July, 1976

"It's about time the one hundred thousand or more gay people in the Maritimes had a voice to call their own. It'll be as much yours as you will contribute to it."
Articles: The Lesbian Conference [in Kingston] by AnneFulton; G.A.E. News; Dangerous Sexual Offender Legislation by RobinMetcalfe; Our Heroes The Halifax Police by R. Isnor; G.A.E. And The Halifax Media by BobStout; National News; A Personal Reaction To The Cleanup by AnneFulton.
Notices: TheeKlub; The AlternateBookShop; GAE Electons; GayLine; Halifax Youth Clinic; Encounter Group using Transactional Analysis and Gestalt by BobIsnor?; Christian & Gay? Phone or write Fr. MikeMacDonald; Penpals; Soccer.
---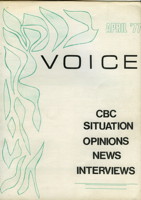 April, 1977
---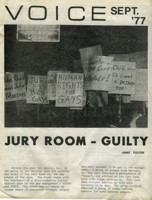 September, 1977
---
The scans of the magazines are courtesy of RobinMetcalfe, relayed by MaryAnnMancini.
---
This page NeedsContent
information about funding - probably from GAE.
link in (more) people, places, events etc
This article is in the PrintMedia category.