In mid August, 2004, ISCANS began circulating notices by email and in posters in the GayBars about His Most Imperial Gracious Excellency (HMIGE), Baron IV JosephPenny. (See IsCansTitles for an explanation of this title.)
Important Public Notice To all ISCANS members: Impeachment Proceedings to be held regarding HMIGE Baron IV Joseph Penny. Place: ClubNrg, Date: Thursday August 26, 2004 Time: 7pm
The Proceedings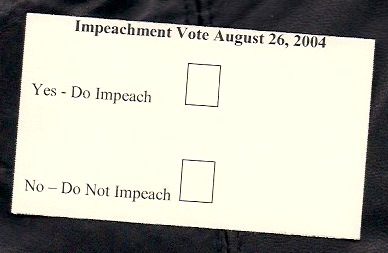 33 people, or over one third of the IsCans membership showed up at the proceedings. There were some complaints about the proceedings being held on an evening when so many people were not available (and after the Cher Farewell Tour Concert.) JerryLutz spoke for the Society, BruceCrooks for Penny.
Letters were presented, dated July 21, 2004 From LynnLaurent and SimonAbbass?, to RaymondTaavel, JerryLutz and the rest of the Executive, accusing Penny of threatening do personal harm, and cancel the reservation of the ballroom for Coronation I, unless he got his way, and of abusing power associated with the money that he and his partner BruceCrooks donated to the society. The letters recommend that Penny be impeached.
22 of the 33 attending voted against impeachment, and so he was not impeached and served the remainder of his term as HMIGE. The following year Penny's ISCANS membership was declined and he was subjected to "Expulsion."
Expulsion
December 20, 2004
Dear Joseph,
This letter is to inform you that effective December 19, 2004, by an unanimous Parliament vote taken on the same date during a regularly scheduled Parliament meeting, your ISCANS membership been declined. You will receive a hard copy of this letter by registered mail for your records.
Effective immediately, you are to cease all fundraising endeavours on behalf of ISCANS while away in other cities, and you are no longer allowed to represent the city of Halifax as a member of ISCANS at any time during your visits to other Court functions outside of Halifax, as you are no longer a member of ISCANS, nor are you a member of The College of Monarchs.
Further actions are pending, and you will be notified in a timely manner of the course of action ISCANS will proceed with.
If you have any concerns or questions regarding the content of this letter, or anything that is related to this letter, please do not hesitate to contact Mr. JerryLutz, Prime Minister (prime_minister@imperialcourtns.com) or Mr. DavidCosens, Premier (premier@imperialcourtns.com) for any assistance you may require. In Service to All that is Imperial, We Remain, The Imperial Court of Halifax, Executive Committee.
Flame War
THE FOLLOWING EMAILS WERE REPUBLISHED HERE WITHOUT THE PERMISSION OF ISCANS, THE MODERATORS OF InternationalDragQueensAndFriends, OR THE AUTHORS. EMAIL ADDRESS THAT PREVIOUSLY APPEARED HAVE BEEN REMOVED.
Commentary has been moved to the bottom of this page.
From: GaryTurner Date: Sun Aug 15, 2004 12:04 am Subject: IMPEACHMENT PROCEEDINGS.
To All Members Of The Imperial Barony Of Halifax & All Of Nova Scotia.
Official Announcment. Please be advised that Impeachment Proceedings have been started against His Most Imperial Gracious Excellency, Baron IV JosephPenny -Lubalicious.
A hearing will take place Thursday, August 26th at 7 O'Clock pm at ClubNrg 2, 2099b Gottingen St, Halifax.
This is a member's only meeting and a vote of the membership will be taken at that time. It is imperative that all members attend if possible.
Regards. HIH King Father Ultima. Baronet to reign II. GaryTurner. Minister of Protocol to Reign's III & IV. Miss Kitty
---
From: "Candice Kelly" Date: Sun Aug 15, 2004 12:45 pm Subject: RE: IDQ&F IMPEACHMENT PROCEEDINGS.
As Baroness 4 1/2 of Halifax and Empress 9 14 and now 17 of Toronto, I feel that putting this on yahoo groups message is wrong. I am going to halifax in oct, after this i feel that i might not go. What you are doing is opening a membership decision to the public. This is a members vote, not a yahoo or city wide vote. As you say "To all members of the Imperial Barony of Halifax & all Nova Scotia" and the message stated Official Announcement.
yours truly baroness 4 1/2 of halifax the triple crowned ivory elephant empress H.M.I.S.M.EMPRESS 17 of toronto jose honor 2003
---
From: GaryTurner Date: Sun Aug 15, 2004 11:29 pm Subject: RESPONSE TO EMPRESS XVII.
Your Majesty, Thank you for your input and your opinion on a recent posting made by myself on this group.
Firstly, we as a Society beleive in making every effort to reach our members especially in an event such as this. Since the beginning of Reign IV many of our members have moved, changed phone numbers, e-mail addresses, etc... I do know that many are members of International Drag Queens as well as Canadian Drag Queens. This is an extremely important meeting and we are attempting to get as many of the membership out as possible. This was the soul purpose of that posting.
We are a public not for profit fundraising Society and what we do and how we operate is public knowledge. It always has been.
The fact that other people are privy to this hearing matters very little. It is posted in all the gay venue's in Halifax in hope's to attract our membership to this meeting. The meeting itself is being held in an open forum being Club NRG. We have nothing to hide.
I hope this explains why this was posted. I had the approval of our Prime Minister Mr. JerryLutz and did not act on my own.
I truly hope that you will decide to attend Coronation I in Halifax. Your presense here would truly be an honor. For more info please contact http://www.imperialcourtns.com/
Deepest Respect.
His Imperial Highness. King Father Ultima. Baronet to Reign II. GaryTurner. Minister of Protocol for Reign's III & IV for The Imperial Barony of Halifax and all of Nova Scotia, Canada. Co-Founder.
---
From: "Jen" Date: Mon Aug 16, 2004 2:16 am Subject: Re: IMPEACHMENT PROCEEDINGS.
re:Impeachment..........It is now 2 months and 1 week befor the end of this reign.....Do you think that you have left this a little late.... I have visited your city twice now. I have already booked my flight and hotel room for Oct... With regards to this, i feel that it is wrong to post this information on a site like this, I do not understand the reason for the inpeachment, but i am friends with both of your reighing monarchs, we have not talked about this, i feel that you are airing your dirty laundry over the internet...maybe not the reason but that there is a problem....maybe you should have worded that members pls contact you because now members of other citys know that there is a problem... this could end up getting out of controll... i understand you are being elevated in Oct..Your city has proven internationaly that you deserve the elevation... and alot of that has been done by both of your monachs and othere members of your city....it has already started going around that there is a problem in Halifax and that is to bad... keeping this problem in your own city would be better then having it posted on a site... and don't forget that the main goal of The courts system is raising money charity.. and those are the people we end up hurting when we have problems that get out of hand.
As for the responce to Empress 17 of Toronto Candice... you stated that you have posted all over your city in regards to this inpeachment..just my opion but wouldn't have been a better use of energy to have put up fundraising posters... I hope that the Imperial Barony Of Halifax can over come the problems that you are having, pls remember that there are people like myself who have a great deal of respect for people who are care givers to are comunity's and charitys that need are help......and sometimes are personal opinions can get in the way of are goals....
Empress 17&1/2 of Toronto, Ambasador from Hamilton to Halifax, Jenniffer Donaldson
---
From: GaryTurner Date: Mon Aug 16, 2004 12:30 pm Subject: regarding impeachment.
Hello Everyone,
I do apolagize if this posting upset anyone. I state again that it was posted only to advise any members of this group that are members of the Barony of our upcoming meeting.
I assure you that The Barony is as stable now as it was 2 years ago. We all have hurtles to overcome and we will do just that. I never posted that our Baron is GOING to be Impeached just that the proceedings are taking place. Impeachment is up to our members.
All Courts have their problems. We aren't the first and won't be the last. We have a very strong Society here in Halifax and together we can and will overcome anything.
Jennifer, it is well known in this City that all Barony events are well advertised ..... unfortunately this includes the bad ones. We keep no secrets from our membership ! If others find out that is beyond our control sometimes.
I can assure you that other Courts already knew what was happening here. Many from our Barony had already asked for advice from other Courts. We know that for a fact.
You will notice that facts on the reason for this hearing were not mentioned publicly nor will they be.
Thanks for your concern in this matter. This will be the last response from me concerning this matter. I was simply given permission to post to reach out to our membership. I have done this. They will bo no more coruspondence on this matter from me.
Warmest Regards. His Imperial Highness. King Father Ultima. Baronet to Reign II. Gary. Minister of Protocol for Reign's III & IV. Co-Founder. baronet_ii@yahoo.ca www.imperialcourtns.com
---
From: AmandaBenzova Date: Mon Aug 16, 2004 10:13 pm Subject: Re: IDQ&F regarding everything
Hello Everyone!
I just had a few questions and comments on recent happenings here in Halifax. I know were tired of hearing about it, but i have a few things i feel that I'd like to figure out. When I first started doing drag 2 years ago I NEVER once knew, I would ever be paid as much as I have gotten paid, done some of the best shows produced, helped to raise a shitload of money to help those in need, never ONCE looking at drag other than having fun! Until recently I have never once thought about hanging up my heels and giving up this part of my life. I personally feel that it is no longer fun, when you go to do a show, spend hundreds of dollars on new costumes to find theres 5 people in the audience and 4 of them are queens, but the show must go on. Its no longer fun, when you feel you need to insult those you thought were friends to get a laugh. Not being able to express your views and opinions because you have a crown on your head. This to me is not fun. Im sorry but I drink swear and do all of the above, call me unproffesional all you want, but when it comes down to it, whenever your in need of a queen who doesnt have a rider whereever i go to perform, or a set fee per number, who do you call ? I never once have refused to perform for a show, or have hosted a show where everyone is not included. But to not be myself when im on stage or at a certain show, your damn right im going to do what you tell me not to do. Recently I overheard a conversation about someone not being able to afford a nice outfit to wear for a show, and other queens ripping them up. You know what fuck you and the horse you rode in on, because you were the exact same when you started. I dont care who you are you were as ugly as the rest of us, and i have seen the photos so dont try! All in all im tired of drag being taken so seriously. Get over yourselves and maybe people will start coming back to the shows like before. Drag should not be "a drag". I always try and stay neutral between bars, and staff, but lately seems like everyones on edge thinking everyones out for themselves, and i just dont get it. We keep loosing site of why we have the court and such.. NOT to give away another title...but to give back to the community. WHO CARES if you have the biggest or smallest crown oh your head that cost you a years rent, throw that piece of tin your hiding under away and get back to what your job is, helping the community and so on. Stop acting like this is the end all be all to exsistence and actually have fun with it. Swear, drink do whatever turns your fancy, never not be yourself. Who is someone to say what you should say and do, as long as you do your job, and do it well ! Im going to use Dita and Lulu as huge examples of this. NOONE in this city gets more respect that those two QUEENS, the drink and swear like sailors, but give them a task, dont be surprised when they come back with triple what you thought they'd get! Im sorry if im sounding harsh, but its all just my opinion, which im known to give out when necessary so here you go. Anyways, I sincerely HOPE I didn't offend anyone, but if so bring it up to me and we'll chat!
Amanda
---
I agree whole heartedly with you girl, we are all just men in dresses. Mama
Commentary
That's all very true Amanda, my hats off to you.
---
Lets get ready for the guilty verdict. Kent has 5 gallon barrels of tar on sale, Walmart has those tiki torches for under 4 bucks each and we can either break open pillows or pluck the ducks at the public gardens for feathers.
A good old tar and feathering under the light of the torches sounds fun for next Thursday! We do need someone to bring a coleman stove to heat the tar!
-- Fuuuuuuuck. Veil for me!
---
As the owner of the group International Drag Queens and Friends rules of the group were violated in posting this information here:
3(A). Personal information about another, threats, stories or gossip that someone attempts to post to the group will be cause for banning, there will be no deviation from this rule. Members will not be allow to post information about an embarassing situation, event and or action with, or directed against another member of this group.
3(B).E-Mail's that are posted in to this group are not allowed to be posted on another site without the permission of the group owner and the person who posted the original e-mail. If one does they will be removed and banned from the group.
I have removed the information, the member who posted it here when found out will be banned. ___
I do own InternationalDragQueensAndFriend? amongst other groups I have the right to enforce rules you must be the member who posted the info and with the group I do have rights as an owner. I will not take the blame for posting info that was posted by someone else.
---
I own the group as I am the one as owner who has the ability to delte the group from yahoo. If you cannot post an add your name then you should not be sayinhg anything at all.
---
OMG - The InternationalDragQueensAndFriend? are on a witch hunt themselves for whoever posted the emails about the impeachment issue. If members of the IDQaF? would like to wait until after this Thursday to get hunting, they could borrow the tikitorches from Joseph's tar and feathering due to be held after the vote! This whole issue is too fuckin funny.
---
It's shame to know that whenever there is a performer in halifax who steps out of the bounds of the "what a proper Halifax entertainer" should be, we jump all over them. We take that story and run with it, not really realizing how damaging these actions are to all involved. And then it becomes a mockery. The real irony here, is for years, the gay community in halifax has tried so very hard to prove themselves over the the past thirty five years that we should be entitled to the same rights and freedoms as everyone else. these public witch hunts, the calling for a "Tar and Feathering", a public embarrassment of our own people I find is rediculous, so rediculous that even WayvesMagazine now wants to be the tabloid they so richly wish to become by sneaking someone into a private meeting to get "the scoop". What will you achieve by bullying these people? God help you when it happens to you, that someone will stand up for you and be there in your defence. Is joseph Guilty of what ever he has been charged with? I don't know... but only after evidence has been brought forth and the members asked for their input will we truly know. Remember, a person is INNOCENT until proven guilty. Wouldn't you wish the same for yourself?
---
Well perhaps the ISCANS officials would be more respected if they didn't take the 'do as I say, not as I do' attitude. They themselves tried to make sure Joseph was going to win as president of MacLeather last year only to discover that their members didn't qualify as voters. I'm sure JerryLutz remembers protesting that questions weren't being asked of the candidate and was promtly put in his place when an eligible voter told him that the question period was offered and he didn't speak up so perhaps he should sit down.
So who looks like the bullies now, sure isn't the average gay person in the community is it! LOL
---
I think this is all a bit much. Can't everyone WHO ARE ISCANS MEMBERS just wait until the Impeachment thingy on Thursday to make their mind up? I'm so sick of hearing about this shit. It's been overdramatized. Watch CPAC if you love politics so much. Most of us just laugh at those of you that keep this going.
---
"so rediculous that even WayvesMagazine now wants to be the tabloid they so richly wish to become by sneaking someone into a private meeting to get 'the scoop'."
Gee, I really wish we had thought of that ourselves. Deadline is September 3rd if anyone wants to do the article for us. We need pictures too. Now keep in mind that as an editorial collective no one person may speak for the magazine - but, in my own opinion only, I think that ISCANS lost the right NOT to tell us everything that is going on when they asked the community to vote on their leadership. The COMMUNITY installed Joseph as Baron, not the ISCANS committee. The community should be deciding when it's time for him to leave - Newspaper Baron Jim I
---
***To Newspaper Baron Jim I: This is a great argument in theory, but I think you've missed the mark a "tad"...yes, the COMMUNITY installed Joseph as Baron...however, he is not the ISCANS LEADERSHIP. The Baron and Baroness are Goodwill Ambassadors who represent ISCANS both at home and outside the province. The Governing body of ISCANS was elected by the MEMBERSHIP. The community (non-members of ISCANS) had nothing to do with choosing who ran the day to day business of ISCANS. THEREFORE, in theory, the community has absolutely NO say as to how this process is being carried out by the Executive of ISCANS (the governing body)...the only people who have a say and a voice to that is the membership who elected the people who hold these offices. Because the Executive Committee is responsible to make sure that the best interests of the Society are met and protected, the Executive is accountable for any actions that are set forth. While the entire society is accountable to the public at large, the rules and regulations that are in place to protect the Society against those who wish to hurt it falls responsible to the Executive committee, which was elected by ISCANS membership. If the greater community is wishing to have a say in the day to day happenings of ISCANS, or would like to have a say in who runs the business end of ISCANS, membership to ISCANS is relatively cheap. Every member has a voice and a vote.***
---
To the Mystery Rebuttal - My point still stands whether Joseph is part of the Executive or not. He was not appointed by the Executive but voted in by the people. If you are going to remove him before his term is over, the case SHOULD be made to the people - not kept to yourselves. Otherwise you simply show how pointless it is to fall for the publicity stunt of a Baron and/or Baroness - Jim ####
---
Jim...your point is well taken, and I do see where you are coming from. It is hard to determine the cause and effect of this issue NOT knowing what the issues are, and your argument makes alot of sense. I know that whatever the issues are, they must be internal issues and historically internal issues are dealt with internally. Yes, Joseph is accountable to the public that voted him into his position. Yes, Joseph is a member of the executive committee as an ISCANS Goodwill Ambassador. That makes this dicey, because he not only is accountable to the public, but also to the executive, which deals with this sort of thing within their own 'realm' so to speak. I would LOVE to know what these issues are that have gotten everyone worked up into a lather and perhaps the people responsible for the leak of these proceedings should have thought before they posted it publically. But that is neither here nor there at this point as it will all be public knowledge after Thursday's 'closed' meeting. Thank you, Jim, for your honesty and your candor. I've enjoyed it. Just sign me...Mystery Rebuttal...or simply Patre
---
Yes i totally agree The personal insults that were posted here have been removed. Take it outside folks... This is better than any soap opera.
---
Some AnonymousCoward writes: That's not what you said Dan ... Please get your story straight!
DanielMacKay responds: ISCANS requested that WayvesMagazine send someone to cover the story. I forwarded the request to the Wayves contributors list like I do a handful of other similar requests every month. End of story.
---
Someone else writes: DanielMacKay, I would be interested in writing for you in Wayves...please contact me patreducette@yahoo.com
DanielMacKay responds: OK - although since it would only take one or two clicks to email myself or mailto:submissions@wayves.ca privately, your motives for leaving a message here could possibly be construed as, shall we say, inflammatory.
---
JerryLutz writes: To the Individual that wanted to remind me that I should sit down and that the leather meeting was for voting members only. I recall the meeting quite well, although the information that myself and other supporters of Joseph at that time had been advised of was not to place Joseph into an executive postion with that organization. If that was the case this is still new news to me and obviously I appeared at your meeting ill informed of what was actually going on. Perhaps if some of the questions being asked at that time had of been answered, then it would not have taken over a year to determine this. My apologies to those of you I offended for thinking I was aiding a person in our community. Next time I will certainly ask more questions of the individual asking for my support and or assistance in matters like this.
---
Thanks for the honest explanation Jerry.
---
If anyone is interested here is the listing of directors and executives of ISCANS, this information and the home addresses of the directors is available, like that of all societies, from the RJSC. Search on the phrase "imperial court."
---
As a Member of ISCANS I am getting sick and tired of seeing this crap. I was told the reason for public posting of the notice to Impeach Mr. Penny was so that those members that don't live in HRM or go to the bars could easily be notified of the meeting. I personally think it may not have been the smartest move on the part of the Executive but we all live and learn. I don't think Wayves should be allowed to attend the Impeachment Proceedings at all, first off its a trashy rag very few people pick up, and secondly this is an internal matter that should stay that way. And I am sure if this issue ever arises again (either with the current Baroness or future Monarch) the Executive will find a less public place to hold the meeting so that only members can attend and vote. Since both Monarchs ran and were voted in on a yes or no vote, I personally think they both should be up for Impeachment - Boom Boom isn't as innocent and nice as people think.
***It wasn't the entire executive's decision to post this in public. It was the doing of one person's decision. Just a fyi. :)***
---
I see that DanielMacKay has taken to EDITING out the comments he doesn't like (especially where he has been named), again. Once and for all it proves to me, that my commnets and placement of issues is not as important and the slanderous comments directed at the juicier stories. This Place is just as raggy as Wayves!!!!
Wayves is Such a Biased source. They only print what they Want. Submissions are subject to Dan & Cam's tyranny of print
DanielMacKay writes: ha ha!! Absolutely. And we plan to keep it that way. Please, do not come to a planning meeting or layout whose schedule is posted at http://wayves.ca/ and for God's sakes do NOT write an article for the magazine and email it to mailto:submissions@wayves.ca - any of those things could result in a dangerously less biased rag and we can't have that.
Cam writes: I never would have left town if I'd known I had a tyranny of print. That sounds awfully exciting.
---
Let's Get Rid of Both BoomBoom and Joseph...they ran together they should be kicked out together....they said there would stand together no matter what. Boom should resign if Joseph is impeached...once Joseph is gone all the crap she has pulled (like the growing cd collection of other performer's cd's in her basement) will become public knowledge and she won't have joseph to hide behind or blame.
You really think Boom Boom could be hidden behind the slimmer Joseph? LOL
She could alaways hide behind MamaJuggs!