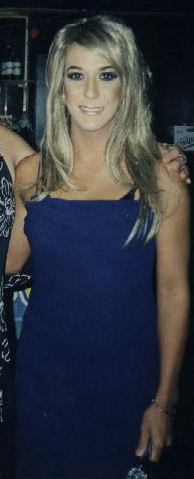 ca. 2004
[ DiamondFamily ]
MzGayHalifax II
What a doll. :) A great performer, wonderfully funny, and always looking fabulous, Dita (aka Ryan) has become one of the city's most famous DragQueens. Right up there with StudioXleNoir and DagneyMarie, Dita can often be found hosting wonderful DragShows at ReflectionsCabaret. She did an awesome "I'm Alive" by Celine Dion at ReflectionsCabaret's 2002 anniversary party.
---
This is my Momma and I love this girl. I miss ya babe. StarrSixtyNine, Vancouver BC
dita lilly here,,luv you,,as ciline and a cowgirl,,,give me wings to flyyyyy, i dont get out much but i luv hearing about you,,,we need more nights for all of us,,not just the monarchs
---
Also awarded "Best Drag Queen" at The Coast Best of Halifax Awards for 2001, 2002 and 2003. You go girl!
---
June 2003: "I have only met her once, but I love her death!!!! can't wait to see you again!!!!!"
---
Dita is sensational! As MC for the Fetish Ball Midnight Review on April 23, she demonstrated once again why she is so loved and respected. She was able to make fun out of anything coming her way, in a tone that was totally enjoyable by everyone. Total Class.
AmandaBenzova writes: I still find it amazing everytime Dita is on stage the crowds reaction and love for her, where as any one else gets the "Oh, its her again". Phenomenal performer/person/fundraiser, who else would get as much money at an aution as Dita for a damn fire extingusher!? Most love!
ShaneltaRomanovBlake writes: DITA GURL!!! Whats going on with the sensory parties....we were awsome when we did them....I miss you and Wade...come visit me in Montreal sooooon.
Dita you have to have one of the biggest hearts I have ever seen in a human being no matter what you are always there for everyone anywhere anytime. If Nova Scotia had a crown you would be the Jewel in the crown. luv DynaMight
Lilly Patterson:,,,you are the greatest woman ive ever had the privledge to meet,,,i met you years ago then heard again about you from DONNA!, i miss her, thank you for your support, i wish i could have known you in your earlier days,,but now is always a good time!
LadySchapeau writes: Why does it say "MzGayHalifax II at the top of this page??????? I thought she was the first, not the second. Wasn't April Showers after Dita???