The Night They Raided Truxx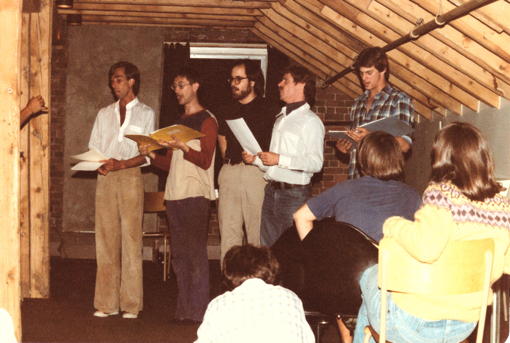 Rehearsal, probably The Board Room at NSCAD. The cast left to right are Michael Joyce, Jim MacSwain, Bruce Nickerson, Sandy Liem, (sp?) and Rod Murray. Missing cast members are Bruce Tubbe and Bill Carr. The woman with her back to the camera is director Rosemary Gilbert.
First gay play mounted in Halifax: The Night They Raided Truxx by PaulLedoux at The Turret, June 28, 1978 to July 6, 1978, by PaulLedoux and Terry Last, songs by Paul Ledoux and Sam Boskey, about "Canada's Stonewall Moment" in Montréal in 1977. Terry was arrested in the raids, and he and Paul worked together at Centuar Theatre. I was outraged by what had happened but being straight didn't feel I could write the play on my own, so we collaborated. Sam was a Montreal City Councillor at the time. We had previously collaborated on a musical called "The Dada Show".
The play was produced by JudiMilne? and directed by Rosemary Gilbert, acted by HugoDann, JimMacSwain, BruceTubbe?, RodMurray?, BillCarr?, SandyLiem?. Musical Director and pianist SandyMoore?. Stage Management Ferne Downey. Musicians DavidFilyer? (name appears as Felyer & Helyer), CharliePhillips?, CarlMatheson?. Stage Manager: FerneDowney?; Assistant Director: BruceTubbe?; Technical Advisor: JeanPierreCamus?, Lighting: BruceGrant?; Cameraman: CharlesSaunders?; Video: BruceNickerson?, IanLemaistre?, DavidFerguson?; Technicians: EdThibodeau?, PaulHubley?, DavidMorris?; JudiMilne?; Graphics: G.D.C.; Set Construction: NorvalCollins; Research: MiaKolchiski?; Photography: RonMerrick?, PaulLedoux; Front of House: TommyMiller, SusannaRuebsaat?, TonyLatham?; Puppet Design & Construction: TomMiller?.
Photo caption by PaulLedoux, photo by NorvalCollins.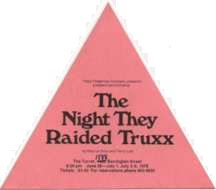 Ticket
CBC piece about a documentary about the original event, by Harry Sutherland. Ledoux asked Sutherland to do the film for the entre'act in the play, which was then expanded to become an important moment in his career.
There was a black-and-white video backdrop for the musical; its scenes were shot in the NSCAD washroom with no sound, and was played on separate screens during the performance. It showed gay men going into the washroom and doing regular washroom things and then exiting. ScottMacNeil says, "Rosemary wanted different types of men and approached me because of my close contact with the Air Canada flight stewards. They all hung out at TheeKlub when [[CondonMacLeod?|Condon]] ran it. I rallied the troops and we shot it in one night. I remember it so well . . .even down to the shirt I wore that was purchased at the UNICORN on Argyle. Yup a $50.00 shirt back in 1978."
There was also a video projector which showed a three piece rock band playing the uptempo "disco" songs in the show. Sandy Moore played the other songs on piano.
HugoDann describes the background to the play in the video accompanying the 1988 History Exhibit.
There are a few pages of script here.
This page is in the HistoryFirsts category.
NorvalCollins writes: I got involved at the very start; I was a co-worker of Rosemary's partner Dave Gilbert at Montreal Engineering.