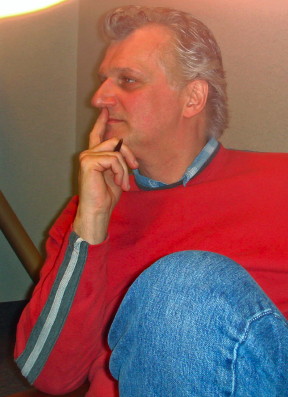 2007 Pic courtesy of BillMcKinnon
Hugo Dann
Hugo Dann has been a professional theatre artist since 1978, when he joined Mermaid Theatre and made his Halifax debut in B-Theatrical Company's production of TheNightTheyRaidedTruxx, staged on the top floor of TheTurret.
Halifax Actor & Activist "for Queer Liberation"
This page documents Hugo's work in Halifax. For other film and television work, see his IMDb page.
Other Halifax plays not mentioned below: Homage, Bonecage, Tournament of Lies.
1978

1979

another PaulLedoux play, North Mountain Breakdown

1994

(NeptuneTheatre) Fire; The Saints and Apostles. There's an article & photo in the March 1994 WayvesMagazine.

1995

(Neptune Theatre) Money and Friends

1999

(Neptune Theatre) What The Butler Saw by Joe Orton.

2005

Through The Eyes at The Space on Agricola St

2006

Co-Chair Halifax Pride with PatrickDaigle; inaugurates TimeOUT Lecture Series for Pride Week to explore cultural/historical aspects of LGBTQ identities.

2008

Halifax Pride Chair; Pride receives major funding from HRM; Parade route moves to Barrington/Spring Garden (thanks in no small part to hard work from EdSavage; Community Festival moves to Garrison Grounds.

2009

Inaugurates Queer Theatre Festival that will become Queer Acts under AdamReid?.

2010/11

First Executive Director of NSRAP; Hugo raised more than $50,000 for the organization in one fiscal year; Co-founds The ElderBerries with LynnMurphy as part of NSRAP's Elders Project; Again with Lynn Murphy conducts first LGBTQ cultural competency sessions for staff at Northwood. Organizes first provincial LGBTQ Community Development Conference for NSRAP.

2011

2011 NSRAP Elders Project report (pdf, 85 pages) written by Hugo, although his name does not appear in it.

2011

After resigning from NSRAP, co-founds Rainbow Refugees with Corrie Melanson.

February, 2012

BrydenMacDonald's Whale Riding Weather at PlutoniumPlayhouse, directed by ThomFitzgerald.

April, 2012

Hugo's combination of acting and activism skills meant that he was one of the few people still articulate, able to speak for the rest of the community, after RaymondTaavel's murder

March, 2013

Received the Mayor's Award for Established Theatre Artist from Halifax Mayor Mike Savage at the Merritt Awards gala in Halifax

August 29, 2014 to September 6, 2014

Played Father O'Neil in, and was dramaturg for, JaneKansas' My Funeral: the dry run. "A dramaturg is rather more like a midwife than an editor," he said.

2014

Received Best Actor Award from AtlanticFringeFestival for revival of Whale Riding Weather.

May, 2017

The Queer Ages of Hugo Dann one-man autobiographical play, mounted at the BusStopTheatre: One Night Only! GarryWilliams IS Hugo Dann in The Queer Ages of Hugo Dann: A preview/workshop presentation of the expanded and refurbished play from last year's Atlantic Fringe. Be part of the process that will take the play to its next level before it premieres at Queer Acts 2017. Dramaturgy: Ann-Marie Kerr, with artistic support from Rosemary Gilbert, Garry Williams and Michael Lake.

September, 2021

Are You Madeleine? at the BusStopTheatre, a play about making peace with the past before it's too late. John is a 69 year old man experiencing the onset of Alzheimer's Disease. Stella, his wife of 45 years, is determined to see him through his journey, and to help him touch base with a person he remembers from his distant past, a mysterious woman named Madeline. With RosemaryGilbert? and KevinJollimore?.