In 2012, ChrisAucoin was commissioned to produce a history exhibit commemorating 25 years of Pride in Halifax.
On February 15, 2013, he gave a presentation, sponsored by NSRAP, about the exhibit. The 60-minute video below was prepared by WayvesMagazine.
Chris paints a broad canvas of life in 1988, centering around the first of the Pride marches or parades, the 1988 Pride March, the context, and many other events from that year.
Click on the image to get to the video: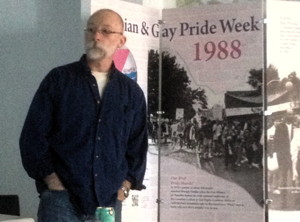 Here's an index of the topics, with some time markers:
the difficulty and importance of doing oral history 00:00, 53:00
the image of the 1988 march from the Dalhousie Gazette, and the GAEZETTE 5:00
the distinction between protest marches and parades;
symbols associated with LGBT life at the time and the word "Pride" 6:50
the JuryRoom 15:20
the CBC protest 15:25
defacing of Gays & Lesbians At Dalhousie posters (see that page for illustration) 17:45
military witch hunts 19:00
re-writing of some homophobic graffiti by RobinMetcalfe & KenBelanger 19:50
Svend Robinson, EricSmith in that year 25:30
a video of the 1989 march made by AnneBishop; the full video is available here
the first AidsVigil & AIDS Hospice 27:30
PFLAG 30:50 & a couple minutes later
GaeGala origins 31:45
the Halifax Rainbow Encyclopedia itself
TheNightTheyRaidedTruxx with some background by HugoDann 34:40, including Margaret Atwood quote, "What's the matter with the police in Toronto? They don't like people taking baths."
GAE and Chris' interaction with Premier John Buchanan's government and Human Rights Legislaton & EricSmith 39:15
the organization GAE, owned by the community 49:45