Tightrope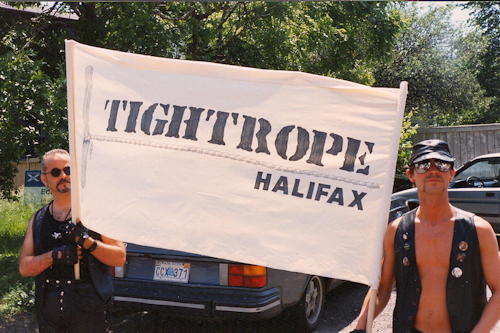 At the 1993 Pride Parade. GlennDeGeer on the right; Photo by RogerJohnson
TightRope was the East Coast's leather/alternative sexuality club, a brotherhood of men who enjoyed wearing leather, denim and uniforms. They would occasionally hold bar nights, fundraisers and other events at MenzBar (and previously at ToolBoxEast) and would field a candidate for MacLeather.
History
September 2, 1997

Registered with the RJSC. Society documents predate this by only a bit if at all. The original By-Laws say "Membership ... shall be individuals who are anatomically correct males who uphold..." but this was dropped in a later version.

November 23, 2005

Last board registered with the Registry of Joint Stock Companies: President: RussellMitchell; Treasurer: GlennDeGeer; Secretary: [[LaurieWile?|Laurie Wile-Yorke]]; Board: AllisonMage?, JimTurner?.

September 27, 2007

Last renewal with the RJSC

November 17, 2007

TightRope's last AGM and final meeting. The group's "Colours" -- a banner made of leather -- were framed and hung at MenzBar. Later they were transferred to SeaDogs, which became TorpedoSaunaAndSpa.

November 29, 2007
Much of the Tightrope society history is in the MikeSangster fonds.
The society's website was www.geocities.com/tightropehfx - here's a snapshot.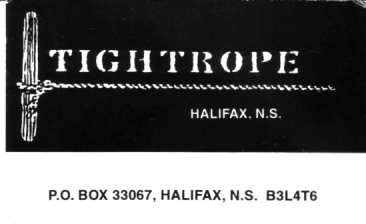 Last Meeting
(under construction as-of November 19, 2007)
The last meeting, on November 17, 2007, was attended by AlStewart (first chair) MikeSangster (founding member), MichealYork?, LaurieWile?, GlenDeGeer?, AllisonMagee?, MikeTeal, JimTurner?, PaulNicholl?, DanielMacKay (TOTAL OF ELEVEN - ONE MORE NEEDED.)
After a meal courtesy of the society, although it was the stated purpose of the meeting, there was a round-table discussion about whether to dissolve the organization. Several people observed that many, many leather brotherhoods in North America were undergoing very similar problems of dwindling membership; the current executive expressed disappointment about the very poor attendance at society events in the last year. At the end, though, we voted to end the organization.
The rest of the evening was spent discussing what to do with the money and a few objects that the Society owned, most importantly the handstitched leather flag. We decided to preserve the flag in an "archival" style frame, and ask the now-ex members to act as trustees to see that it was on display in a bar.
There is a LOT of material about TightRope and MACLeather in the RainbowSeniorsArchive.
Press Coverage
(article from TheCoast, November 29, 2007)
The end of their rope
Tightrope, a groundbreaking leather and denim club, comes to an end after 17 years of service.
by Mike Landry
What if you held an S&M party and no one came?
That's exactly what happened to Tightrope, Halifax's first leather and denim gay brotherhood society (founded in 1990). Last month they shelled out $100 for four rooms at Seadogs to use after a general meeting to plan their 2008 events. It would end up being the last event held by the society.
"I was thinking we'd probably have a fisting scene going on or something more elaborate. We could go back to a private room, go sit in the sauna, go have a shower, run around naked or go into another room and get handcuffed to a cage, whatever," says DeGeer, Tightrope's treasurer. "We've had meetings and events before where only a few members show up so that's nothing unusual...but the fact of the matter is no one showed up."
Tightrope's members voted itself out of existence two weeks ago. DeGeer put forward the motion to disband with the memory of October's event fresh in his mind. But that wasn't the only reason—"it was one thing after another."
Not a sex club, Tightrope explored gay male sexuality. For DeGeer, a bisexual and always a partier, the society helped him embrace his love of leather and wild times.
In its heyday, the society touted 24 dues-paying members. They would go to after hours bars decked in leather and denim and handcuff each other to pipes and pillars. Hot and sweaty, they would flog each other and dance.
But membership had been dwindling for the past decade. They weren't recruiting new members and their long-time members were getting older and moving away, and they were tied down to jobs or family. The society's president was stepping down and they didn't have the membership to reorganize themselves.
"I'm an instant gratification type of guy. I don't like waiting around," says DeGeer. "I didn't want to see Tightrope die a slow death and have just a few members pound their brains out trying to get things going."
The motion to disband passed nine to one. They're donating the remainder of their funds to charity and planning to give their leather banner and brotherhood award plaque to a local bar, bringing an end to almost 20 years of safe, sane and consensual decadence.
Tightrope began as Leather and Lace back when DeGeer was living the straight life with a wife and kids. That gay and lesbian leather group folded quickly. But a few members went on to create Tightrope.
"Being a part of the brotherhood, you felt like you belonged and you had somewhere to go—especially if you want to involve yourself in the S&M scene. Where the hell else can you go to interact with other people who are aware, involved or don't mind talking about these things?"
Beyond debauchery, the society would hold slave auctions and other events to fundraise for local charities. But when membership started to decline, bar owners said they couldn't hold their charity events if members wouldn't show up.
One tune in DeGeer's head the past few weeks has been "Video Killed the Radio Star."
"Well, Internet killed the leather scene." says DeGeer.
Men's leather societies across North America have been hit hard by the Internet. No longer do you need a group of friends to know what hot wax to use and which whips feel good but don't rip up your back.
Spearhead Toronto, Canada's oldest leather/denim brotherhood, has almost 100 members and has raised thousands of dollars for charities. They were shocked to hear of Tightrope's demise. But Rob Jeyes, Spearhead's vice-president, knows how hard you have to work to keep up membership.
"Without promotion we lose base with the people out there," says Jeyes.
There are a few other loose-knit leather affiliations in the city, like MAC Leather, but nothing as organized or charitable as Tightrope. Also, neither of these groups are men only, leaving a gap for Halifax's leathermen.
"Everyone wanted to keep it alive. They loved Tightrope. But they're all mature men. They're not stupid," says DeGeer. "Everyone was being a man—facing reality and facing the facts."
This page NeedsContent
founding members;
activities over the years;
Why they disbanded?
Part of HistoryProject.