Mike Sangster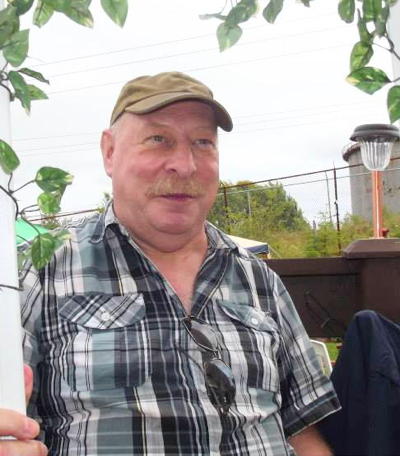 July 31, 2013
Mike was born in Halifax June 3, 1951, and grew up here, going to Queen Elizabeth High where he came out many times. He was active in sports and has fond memories and stories of the high school wrestling team.
Mike credits Robin Metcalfe with encouraging him into activism in the mid 1970s via David Gray's bar
Mike met Al Stewart at GAE meetings and they became roommates and then partners.
He worked with GAE and politics, but dropped out for a few years. When Rumours moved to Gottingen Street he became involved again as treasurer.
Mike went with Al to St. John's United Church's first vigil for HIV, and was active as a boardmember and treasurer of the Canadian Treatment Action Council [for HIV]; on the board and co-chair of GNP North America, a widespread international group spanning the globe;on the board, vice-chair, and Atlantic Representative of the Canadian AIDS Society; volunteer for the AIDS Coalition of Nova Scotia for over 20 years and the chair for many years.
Mike was on the team organizing the 1988 and 1989 Pride marches, the ones with the paper bags, and yes, Mike was one of the ones wearing them. "We were wearing paper bags over our heads to demonstrate that we needed to hide our faces from everyone because we could, at that time, not only lose our jobs but also our housing, our family connections and friendships etc. We had to be secretive and feared persecution from not only the authorities but the population in general.
In the mid 1990s, a bunch of young men, Al, Mike and DonMurchy? were talking at Rumours and decided it was time to have a leather contest like other big cities. The first organization was called Leather and Lace and included a couple of lesbians. Later it became TightRope; Al was the first President and Mike was the second. Tightrope did the MAC Leather competition with similar minded folks in New Brunswick, and Mike had a time as a judge. They would go to runs in Toronto (Spearhead), Montreal and Chicago bringing back stories and ideas. Mike won the Spearhead Run competition as the Daddy Leatherman.
A search of the pages in the Halifax Rainbow Encyclopedia which mention Mike reveals much more about his involvement with the community and links to audio clips where he's telling stories.