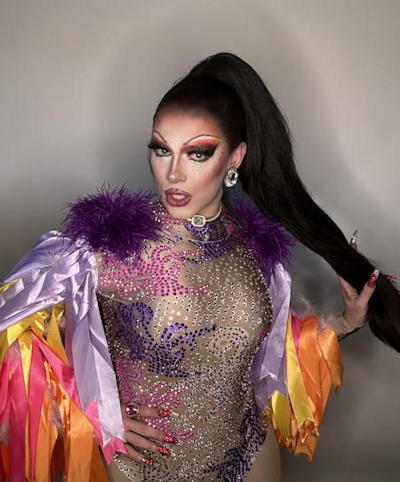 2023
🌈Vanity Station🌈
Vanity is one of many Halifax DragQueens.
Everybody say WIG! For over seven years Vanity Station, drag daughter of the halifamous DevaStation, has been a staple in Halifax Queer nightlife. Her personality will draw you in and capture your heart! She is known for her high energy fun dance mashup numbers and inclusive + diverse event production!
Over the course of her iconic career Vanity has produced drag cabaret shows, dance parties, drag queen story hours, private events, bachelorette parties, youth shows, birthdays, and corporate shows, Vanity really is a queen of all trades! Keep an eye out for her, this queen is destined to take over the world.
Rumoured to be cast on Canadas Drag Race Season 5
Vanity runs a monthly show at IndulgeNightclub called WigWars? that features two teams of iconic performers lipsync battling for the WigWars? championship!
🌈Drag Family Tree🌈
Drag Grandchild of StudioXleNoir.
Drag daughter of DevaStation and DynaMight.
She is the drag sister of AnnaMonaPia and RougeFatale.
She is the drag mother of LuckyCharms, IzzyLimpwrist, LamitahSheree, and AndrewGuiness.
She is the drag grandmother of SinCharms, JasleenCharms, VinnyVanHoe, and ShmamTheMam.
She is the drag aunt of MikeHunt, BridgetVonSnaps and all of Rouges children!
Out of drag, Vanity is ConnorMcKiggan.
🌈Links🌈
🌈Pride Schedule🌈
Vanitys Drag Schedule for Halifax Pride 2023 HalifaxprideEvents
July 20 TD Block Party 5-8
July 21 X of Pride - IndulgeNightclub Doors open at 8:30pm
July 22 Wig Wars Legends VS Titans - IndulgeNightclub Doors open at 8:30pm
July 26 Family Feud - Station VS Monster - IndulgeNightclub 8pm
July 28 Pride at the Halifax Shopping Centre 2pm-4pm
July 28 Taylor Night IndulgeNightclub